We have been named as the preferred provider for third-party inspection and certification services by oilfield equipment manufacturer Control Flow Inc.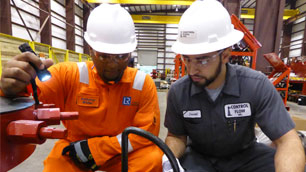 The company is one of four of the most widely respected names in the petroleum industry for manufacturing quality valves, offshore oil field drilling equipment, wellheads, and production pressure control equipment.
Control Flow's recommendation comes at a time when industry suppliers and customers are increasingly using the expertise of independent safety and risk management companies to assure the safety of equipment manufactured for use in the oil and gas industry. The latest collaboration reflects an ongoing partnership between Control Flow Inc. and ourselves.
The newest project for Control Flow involves manufacturing more than 80 surface wellheads (known as 'Christmas trees') which are destined for oilfields in Iraq. Our surveyors will be providing quality inspection and certification on all 80 units.
Andy Cade, Director of Middle East Sales for Control Flow said: "Our reputation for manufacturing excellence and fast, dependable delivery and service has earned us the respect and loyalty of customers at home and abroad. We want to continue this level of quality.
"It is very hard to find an inspection services provider that takes pride in what they do like Lloyd's Register Energy," Cade highlighted. "To find someone who will pick up the phone at 1 a.m. on a Saturday and answer a question is rare. Responsiveness is everything to our clients and that's why we chose Lloyd's Register Energy. You can't put a price tag on that."
Manufacturers in the oil and gas drilling equipment industry face enormous pressures to meet deadlines, with costly penalties for non-delivery to specification. Most succeed or fail on the quality of the service they provide, as well as the quality of the components and equipment they make.
Increasing trends toward global component sourcing highlight that tomorrow's manufacturing companies will need to do more to identify their greatest supply chain challenges and to use independent inspection services and technical expertise to help mitigate risk.
Best-practice inspection regimes can improve public and private stakeholder confidence, assure equipment integrity and reliability, and reduce inspection and maintenance costs.