Hiring program, managed through Lloyd's Register, makes IADC the biggest employer in Warriors to Work Program.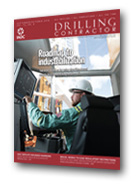 Lloyd's Register, along with IADC's WellSHARP, has partnered with the Wounded Warrior Project to develop a first-of-its-kind program to provide meaningful employment opportunities for injured service men and women. Through this program, IADC is now the biggest employer within the Wounded Warrior Project's Warriors to Work Program.
As many as 160 Wounded Warriors have been listed in IADC's system, and an estimated 125 of them have actually proctored for IADC, according to Michael Rogers, Project Manager, Lloyd's Register (LR manages the proctors under IADC's direction).
For those returning home from war zones with significant injuries, their military careers over, it can be difficult to nearly impossible to resume full-time employment, despite the desire to remain independent and provide for themselves and their families.
To help overcome these challenges, the Wounded Warrior Project was founded in 2015 to foster the most successful, well-adjusted generation of wounded service members in US history and to raise awareness and enlist the public's aid for injured veteran needs, help injured service members aid and assist each other and provide direct programs and services to injured veterans. Ultimately the project aims to provide opportunities for employment, and thousands of veterans have received training and have been placed in part- and full-time employment.
Read the full article and veteran testimonials on the Drilling Contractor website.