New worldwide network briefings focused on connecting with institutions and companies in the global energy space that together, can help find solutions to tomorrow's business challenges.
As part of a greater engagement to understand the challenges the energy market is facing, Lloyd's Register Energy is launchin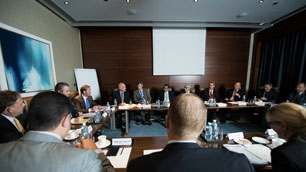 g a series of executive engagements around the globe to help facilitate industry discussion on key challenges the energy sector is facing.
Launched at Adipec 2014 in Abu Dhabi, the largest oil and gas gathering in the Middle East, John Wishart, President of Lloyd's Register Energy commented:
"This week we have seen the debate at Adipec focus on how the industry needs to continue to address the challenge of driving Enhanced Oil Recovery with aspirations of moving from 40% to 70% on recoverable reserves.
"What we are seeing from the briefings we have conducted in Abu Dhabi is that there is a real appetite for executives to learn from adjacent industries – and taking these learnings to help to advance the efficiency of the industry."
The Lloyd's Register Energy 'Global Executive Briefing Network' aims to provide an exclusive opportunity to build relationships with peers across the industry through structured strategic discussions.
Peter Richards, Vice President of Marketing & Communications said:
"Our briefings bring together business leaders from across the world to debate and challenge some of the major demand, supply and technology challenges which the energy sector is facing. Due to the global nature of the sector our aim is to facilitate the debate in key energy centres around the world.
"We have seen from our briefing at Adipec a real desire for executives to learn from each other in a non-competitive environment, and our Executive Briefing Network will start to join up the global debate with focused briefings in Singapore, London, Houston and Perth over the coming months."
Based on the importance that the energy sector has to society at large, Lloyd's Register Energy is helping to increase dialogue and raise awareness on where industry's resources should focus.
The company works closely with the industry's institutions to help them respond to regulatory demands and improve their processes and performance controls in this area. Its experts also engage with broader industry forums, in developing guidance to support the assurance opinions provided to its clients and the regulators over safety, integrity and managing operational risk in the oil and gas industry.