Two members of Lloyd's Register's HAZID/HAZOP Team have been awarded with the IHS Spectrum Excellence award for their risk assessment work with the implementation of real time recording software IHS PHA Pro8®.
The importance of risk assessment work has been substantially raised within the industry in recent years and currently Lloyd's Register is using it to validate novel technology aspects within Ship Classification, Oil and Gas, Renewable Energy's and Transportation Industries. With projects taking place globally, it is important for risk assessment review meetings to improve on methods of conducting and reviewing designs in a multi-discipline and often multicultural environment. Lloyd's Register's well established methodologies and skills, together with the implementation of the latest software has enabled expert guidance to be delivered and managed in a single package with the obvious benefits to our clients.
The implementation of PHA Pro 8® together with their well-recognised risk assessment skills provided this Lloyd's Register team the ability to streamline the review process of complex designs in real time, whilst enabling technical input from owners/operators, designers and manufacturers to focus on design safety and operability. Having the ability to record real time allows us to capture comments from large project teams and initiate appropriate actions to all parties involved which has shown a real reduction in turnaround time.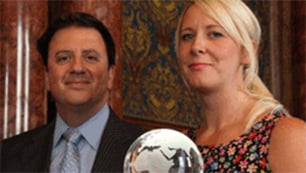 Thanos Koliopulos (Special Projects Manager) commented: "Our continuous improvement of skills for validating new technology is proving to be invaluable for our clients. Lloyd's Register remains a leader of technical evaluation services and it is rewarding to be recognised for this within the industry". Gemma Burton (Business Support Specialist) also commented: "It was such a fantastic feeling to be nominated for this award by one of our clients. The improvement in our recording process has given confidence to all parties involved to participate and exchange valuable technical knowledge to the benefit of the projects. I'm extremely pleased our achievement has been recognised at this level".