As part of EWEA Offshore 2015 in Copenhagen, Arve Sandve (Renewables Lead at Lloyd's Register Consulting) was interviewed by EWEA Windpower Monthly TV on the state of safety in the offshore wind industry.
"Cutting cost is a significant challenge to the industry" said Arve, but he warns against cutting costs at the expense of safety.
While wind turbines are predominantly unmanned, Arve explains that there are often significant safety risks when people need to be deployed to a turbine, in the process of physically transferring them to the turbine, and especially during lifting operations.
See below for the full video of the interview. The full transcript follows at the end of this article.
Lloyd's Register has more than 250 years of experience improving safety in offshore environments. Paired with our independence from shareholders and governmental stakeholders, this gives us a unique perspective on these issues.
Find out more about Lloyd's Register's activities in the renewables sector.
Full transcript of the video:
Q: Can you tell me something about what Lloyd's Register do in Offshore Wind?
A: We are quite heavily involved in offshore wind. Lloyd's Register is both a compliance and advisory company, and I'm from the advisory part, located in Oslo. Within offshore wind, we have been quite a lot involved in asset and risk management, during construction, operation and technology qualification.
Q: One of the things talked about a lot [at the EWEA conference] is cost reduction. If you're working in the health and safety side of things, I assume that cost reduction is going to have an effect on that. How is your company looking at that?
A: It is a concern. Cutting cost is a significant challenge to the industry. What we are concerned about is that they don't just cut cost, but also cut safety. We are encouraging the industry to take into consideration safety and human factors when they are improving their cost perspective.
Q: Where do you see the offshore sector at the moment in terms of safety? Obviously, it must depend on different markets?
A: Yes, it is a common understanding within the industry that it is a young industry, that has plenty to learn when it comes to health and safety. If you look at the latest reports released by RenewableUK and G9, we see that there are key challenges related to both construction activities and operation, mainly in lifting operations, which is a major part of installing a wind farm, but also marine operations as part of deploying people during operations.
Q: In terms of offshore wind and the other offshore sectors, where does offshore wind compare with oil and gas for example?
A: There's a lot of work going on trying to develop guidelines and regulations for the offshore wind industry specifically. Other offshore industries like oil and gas have spent 40 years to get where they are now. We see that offshore wind has a way to go, but there's a great deal of work going on in different countries, but also from different groups of companies , in trying to put health and safety in the forefront.
Q: Looking ahead, into the future, where do you see the offshore wind industry going – are things getting better?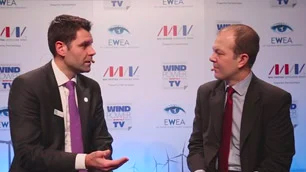 A: I think it will. They will improve on a regular basis. If you look at where the wind farms are building, it's more remote. Obviously we need more reliable turbines – basically a turbine is a manual installation – if you don't deploy people there is no risk [to human life]. If you deploy people you introduce risk. What we see in the future is hopefully better integration and co-operation between the health and safety community and asset managers, so that the logistics and strategies of operation are more included. That is probably a way to mitigate the risk that we have to put people on the turbine.