Press release
03 November 2014
Supporting the offshore engineers of tomorrow
We sponsored the 2014 International Association of Ocean Engineers field trip for Young Professionals held in the USA.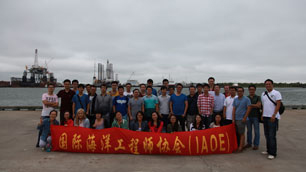 The event hosted 50 graduate and PhD students in the offshore industry fields ranging from ocean engineering, naval architecture, subsea engineering and civil and mechanical engineering and provided them with the ability to discuss the oil business, trends in the floating offshore market and how Rules and Regulations play an important role not only to the industry, but to society and more so to the enhancement of reliable and safe structures to support the hydrocarbon and offshore industry.
The event was held at the Ocean Star Offshore Drilling Rig and Museum in Galveston, Texas and included a facility tour of HongHua America LLC, a manufacturer of drilling rig packages and rig equipment, allowing students to gain an in-depth experience of offshore drilling and the people, systems and equipment behind it.
TJ Dillingham, Business Development Manager for LR Energy, commented on the programme: "The oil and gas industry faces a skills gap with many oil and gas workers retiring, leaving a smaller and less experienced group of people left, this issue is of great concern to the industry. Events like this are essential and we need to be supporting students and encouraging them to continue in this field."
Jeffrey Guo, PhD, President of the International Association of Ocean Engineers (IAOC) added "it is great having Lloyd's Register support our Young Professional events and we look forward to working together again."
LR plays an active role in supporting educational institutions and bodies, with the LR Foundation being a leading supporter of engineering-related research, training and education to improve the safety of the critical infrastructure on which modern society relies. You can find out more about the Lloyd's Register Foundation here.
For more information please contact Jason Knights.