Global inspection contract supports procurement goals for improved quality in components and equipment sourcing.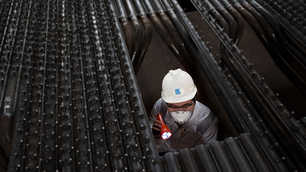 We have been chosen by Woodside as one of its global inspection providers. The new contract will help to ensure the components and equipment Woodside procures globally meet quality expectations. Woodside is the largest independent oil and gas company in Australia. Under the three-year contract, we will provide surveillance inspection, expediting and auditing services. The contract also includes two one-year extension options. The successful nomination for delivering worldwide inspection services comes after a similar nomination of global inspection support for Japanese energy company INPEX for its high-profile Ichthys LNG project in western Australia.
"Our focus on providing high-quality worldwide inspection services, along with our proven success with INPEX, were major factors in this award from Woodside," said Fotis Kampouris, Vice President of Worldwide Inspection Services for Lloyd's Register Energy.
This latest inspection nomination continues a long-standing relationship between the global giant certification authority Lloyd's Register Energy and Woodside. For more than 25 years, we have been providing ongoing compliance and risk consulting services to Woodside.
For more information please contact Jason Knights, Global Communications Manager