Statoil Petroleum ASA has successfully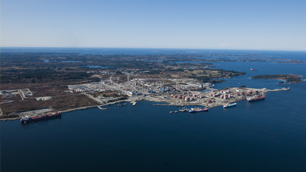 completed a detailed risk analysis at its downstream oil refinery. The analysis -- Environmental Risk and Oil Spill Emergency Preparedness helped Statoil put in place the latest safeguards in to its Mongstad oil refinery to minimize risk to life, property and the environment. "Integrating the latest knowledge and insight on environmental risk and oil spill emergency preparedness measures, helps energy companies to further improve how they respond to issues of hazards and risks - and the processes they have in place to manage different levels of risk," says Kristin Myhre, Department Manager.
"The work we have successfully completed with Statoil is an example of the management team's mindset and approach for continuous improvement in managing risk and providing a sustainable and safe operating plant."
Myhre indicated that such an approach leads to improved business reputation within industry and local communities, and recognition by the regulatory authorities and environmental protection agency of Statoil's successful approach to managing hazards.
The risk analysis work was carried out following improvements and modifications made recently to the oil refinery plant and infrastructure. It is a modern highly-upgraded plant with an annual capacity of near 12 million tonnes of crude, and is the largest facility of its kind in Norway with outputs from petrol and diesel oil, to jet fuels and other light petroleum products which are exported to continental Europe.
"The analysis we carried out has helped to identify the major contributors to environmental risk at the refinery," says Senior Environmental Consultant Are Børjesson. "We achieved this by assessing all the potential hazards around how the refinery operates and how it is managed - also assessing the process around oil spill emergency preparedness and response, the barriers and technical measures to ensure Statoil's management and operation teams are able to handle an accident effectively and safely, particularly where human life and the environment are at risk."
Advanced oil spill software was applied to simulate different levels of risk scenarios. Risk software was then used to assess coastline and environmental impact.
Børjesson highlights: "Our state-of-the-art risk analysis software was used to test the results of the simulations and produce a dedicated risk assessment matrix for Statoil. We went through a further analysis with Statoil's site specific Oil Spill Emergency Preparedness measures to investigate their effectiveness and impact on environmental risk. "
"The work and openness of Statoil to ensure that a robust approach to safety is in place across their refinery operation provides industry and the local community with confidence of the company's capability and determination to reduce and manage risk. They are doing the right thing. It has been a real pleasure to work with Statoil on Norway's major downstream refinery."
The analysis enables Statoil to prioritise oil spill emergency preparedness measures, to operate in accordance with legal requirements and manage risk at Mongstad in an environmentally sustainable and safe way.