A strong commercial focus is what drives LR's Marine & Offshore President for North Europe, Markus Buesig.
Words: Nicola Good
Many consider space to be the last frontier. Unquestionably a pioneering spirit, it was where LR's North Europe President Markus Buesig (pictured below) was determined to make his mark as a teenager. And while he openly admits that Germany is not at the heart of the space race, and that his family origins in shipping may have made for more a more traditional career path, they have certainly not limited his trajectory.
A relative newcomer to LR with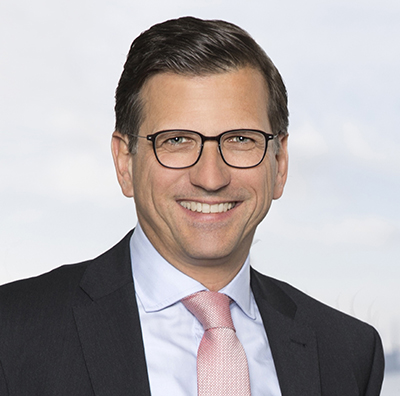 around 18 months under his belt, Buesig's maritime credentials are impeccable. Coming from a third-generation Hamburg shipping family, his formative years in this industry were as a shipbroker working in London at the Baltic Exchange. This was followed by a stint in Hong Kong and a return to Germany with Frachtcontor. Thereafter, he cut his teeth in leadership positions at Reederei Nord and E.R. Schiffahrt from where he was orbited into a white-knuckle restructuring ride during the KG meltdown that followed the 2008 banking crash.
At the time, the German 'Kommanditgesellschaft' investment system was behind the funding of more than a third of the world's container ships, with around 1,600 KG funds in operation. With global trade on its knees and vessel earnings decimated, many faced severe financial difficulty, if not bankruptcy. Working for the ship management and asset financing company MPC, Buesig had to find creative ways to deal with the financing void and limit insolvencies. "Ten years in the rough" followed for many German container owners as they stabilised their businesses with support from Buesig and his peers. Many companies had to merge, charting the course for a new beginning, and often involving different corporate cultures, approaches and ambitions.
While shipping highs and lows are formative and never far from the minds of those who have lived them, the extremes encountered in the mid to late 2000s were marked for Buesig.
"I had already experienced a couple of cycles having been around since the late 1980s, but it was just impossible to imagine what we experienced in 2006-2007. Yes, we could see some signs that no-one wanted to stop the party – although we saw it was getting late – and when I think of the size of the container orderbook and how much individual companies had contracted, I still shudder. It was quite something," he tells Horizons candidly and swiftly references present state of container freight market and all its current anomalies.
But does that that mean any lessons were learned from the 2008 fallout? "Yes and no. In the short and mid term possibly, but I have my doubts about the long term" says Buesig. "For some in shipping, it has been and always will be about the asset play. This will not change, and they will not change. However, there are many companies who are looking further down the road and are recognising that they need to invest for sustainability.
"We all need to look at shipping over the long term and consider our industry's role in global decarbonisation. There are many future fuel options that we need to consider and it's too early to point to winners. The only certainty is that we need to be making changes now.
"The decade ahead will be one of shared learning and development," he tells Horizons, adding that shipping's environment track involves much more than just CO2. Apart from other emissions including ocean noise to consider, shipping should step up to environmental, social and governance (ESG) responsibility.
It was this desire to support the key transitions of digitalisation and decarbonisation, underway in the shipping industry, that prompted a veteran like Buesig to join LR. "I have sat at many tables in many roles and I was always fascinated by class' objective," he says. "We offer services to make shipping safer, we want to make shipping more sustainable, and we want it to be more efficient."
Always ready to stress that he "will never lose his commercial focus", the charitable ownership of the LR Group via the LR Foundation and the values of 'we care, we share and we do the right thing,' resonate for the father of four who has witnessed all the behaviours – good and bad – that our industry is known to exhibit.
He is also "excited and enthused" about the opportunities that digitalisation heralds for maritime. "We have been able to retrieve significant amounts of data during the past decade, but we have now entered an age where we can actually make real use of it, as we have the processing capacity and capabilities. The winners will be those who really embrace it and turn the data into behavioural advancement and finally into profits."
Buesig has clearly witnessed a lot of transition in shipping during his career. Container ship sizes have quadrupled from the 1996-built 6,000 teu Regina Maersk to the 24,000 teu behemoths of today. There have been notable mergers in his backyard – Hapag-Lloyd's expansion with CSAV and UASC and Maersk acquiring Hamburg Sud – but what aspects stand out most for him?
A lot of things have changed, but a lot of things have not, he says, pointing to trust and the strong personal relationships that exist within the industry and that have proven to be the bedrock of his career. A fitting reflection given that LR celebrates 150 years of operation in Germany this year and has worked to foster strong ties throughout the German maritime sector.
However, he admits that one difference is the way things have become more legalistic than they were in the past when multimillion-dollar deals were brokered in conversation, often late at night, and all sides were totally confident that the agreed terms would be honoured.
"I remember presenting a page from my notebook during a complex arbitration during the late 1990s and that was fully accepted as evidence from the arbitrator. That would probably not be the case now. People rely on the written word in a much more formal way now. But even though some things have become much more legalistic, we all know that it's the strong relationships and the absolute will to support each other in finding a mutually acceptable path that underpin our activity. This is what really matters."
We all need to look at shipping over the long term and consider our industry's role in global decarbonisation. There are many future fuel options that we need to consider and it's too early to point to winners. The only certainty is that we need to be making changes now.