Insight article
15 July 2014
White paper: Studying the finite elements of flexible pipe.
For many people the stereotypical image of oil and gas drilling and transport operations involves stacks of rigid steel pipe sections being taken out one by one and laid end to end. However a different kind of "pipe" has been in use for over four decades; it comes in a continuous length wrapped around a large spool and is known as a flexible pipe or flexible riser.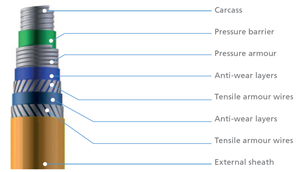 Available in a range of diameters from 1 inch to 20 inches, these conduits are typically used in a riser configuration to transport hydrocarbons from deep-sea wellheads to a Floating Production Storage and Offloading (FPSO) installation. It's estimated the industry produces more than 1400 km of flexible pipe per year and more than half of that is used as risers. However, these components are often overlooked as a safety critical element of an offshore production operation.
This whitepaper looks at two projects undertaken by experts at the Lloyd's Register Energy Global Technology Centre, to improve prediction of the failure envelopes for flexible pipe designs operating in deep and ultra-deepwater environments. The first, using sophisticated simulation tools, investigates alternative analytical and numerical models of flexible pipe developed to predict collapse pressure under various conditions of curvature and ovalisation, showing the limitations of simplified analytical techniques and the potential of numerical modelling approaches.
The second project aims to link large-scale and detailed models of flexible pipe in more sophisticated ways than traditional analysis methodologies, in order to better predict component stresses (and consequently remnant fatigue life) in response to complex dynamic loading histories, as well as providing a powerful investigatory tool for studying causes and consequences of progressive failure mechanisms such as lateral buckling of tensile wires.
These new analysis tools will help operators to accurately predict which risers need to be replaced early and which ones can reliably remain in service, minimising both cost and downtime, whilst significantly improving safety for all the those involved in the operation.