Lloyd's Register (LR) Software Conformity Assessment is an impartial certification system based on assessment of software products against published criteria. It involves inspection of the software product's documentation at all stages of its creation lifecycle, the witnessing of tests and witnessing of the functionality for completed software products.
The software development life cycle stages for which evidence of successful completion at each stage is to be available are requirements specification, design implementation, unit and integration testing, system verification, configuration management and the available maintenance provision. Evidence is to be available of planning at all stages of product implementation along with documentation for installation of the product and its use.
LR Software Conformity Assessment provides independent third-party certification to assure the quality of software products. In particular it provides an assurance of compliance with published assessment criteria, which are derived from relevant industry standards and guidelines.
Successful assessment results in the award of a certificate, the right to use a Software Conformity Mark and entry of the product details in the LR Approvals database.
Software Conformity Mark Usage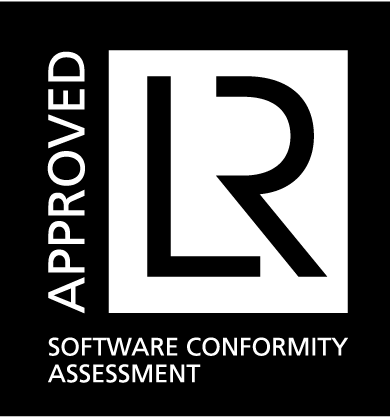 Lloyd's Register (LR) approved software products are eligible to use the LR Software Conformity Mark. The Software Conformity Mark can be requested directly from tass@lr.org or from the LR office that carried out the certification.
The Software Conformity Mark may be used for marketing purposes in association software product which has valid certification.
Software Products suitable for Software Conformity Assessment
Lloyd's Register can offer approval of the following Software Products:
Control System Applications.
Software Products for Planned Maintenance Schemes.
Electronic Record Books for MARPOL Applications.