Hyundai Heavy Industries (HHI) and Lloyd's Register (LR) have today announced at Nor-Shipping 2017 a joint development project (JDP) to design 180k DWT class bulk carriers.
These designs will meet the latest market needs by using LNG as a fuel, with an optimum design for short to medium-haul bulk trade (i.e. Australia – Asia) and long-haul bulk trade (i.e. Brazil – Asia) service in line with the Harmonised Common Structural Rules.
Since the introduction of the IMO's NOx and SOx emission limitations, and increased developments in the global supply of gas, there is a continued need for ship designs to evolve to provide further alternatives to traditional oil-fuelled designs. As new building orders in larger size ranges are expected, a 180k DWT class bulk carrier was selected for this design development project.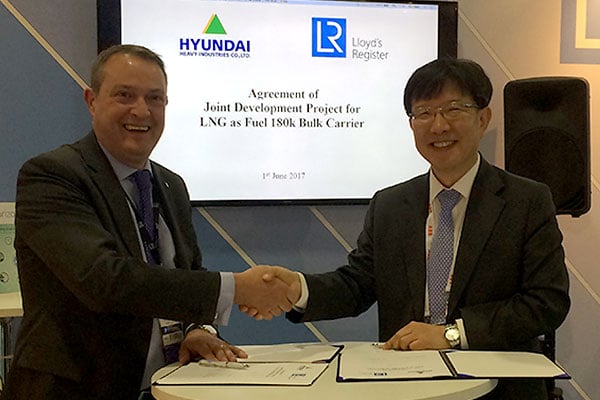 LR's David Barrow and HHI's Bong-Jun Jang signing the agreement at Nor-Shipping
David Barrow, LR's Director of Innovation, Marketing & Sales, said: "We are really pleased to announce this new joint development project. These HHI designs offer the possibility for owners to comply with emissions regulations worldwide while keeping the investment viable and competitive. It is really important to LR to be able to help support this type of innovation in the market and assist in bringing such solutions from concept to safe and effective adoption."
Bong-Jun Jang, HHI's Senior Executive Vice President, mentioned: "We sincerely believe this JDP will bring environmentally-friendly and economical solutions for future bulk carrier designs and be remembered as a milestone in shipbuilding history. It has always been our great pleasure to launch JDP's with LR and our collaboration will lead to technological improvement aimed towards energy saving and cleaner shipping."