High efficiency design using bilobe type 'C' tank is suitable for small-scale and costal LNG trading
Lloyd's Register (LR) has completed a joint project with Hanjin Heavy Industries & Construction Co, Ltd. (HHIC) to develop a 30,000 cbm LNG carrier design with bilobe type 'C' tanks.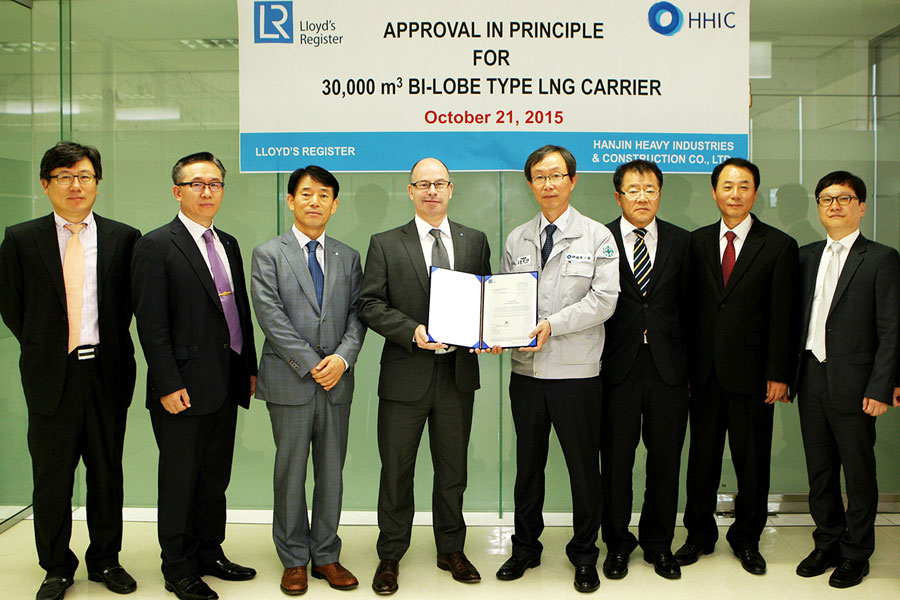 Jim Smith, Regional Marine Manager, North Asia, LR, awarding Approval in Principle to MT Yoon, Executive Vice President and head of design, HHIC
LR and HHIC contributed their unique knowledge and experience to develop the small-scale LNG carrier using the latest technology within the bounds of existing shipbuilding methods. The vessel concept has a significantly improved environmental aspects, a higher level of energy efficiency and improved cargo capacity. Applying bilobe type 'C' cargo tank technology makes the vessels very well suited to future LNG trading patterns in the coastal waters.
Lee Cha-Soo, Senior vice president of Ship Sales Engineering Team of HHIC, said: "HHIC is proud to be working with Lloyd's Register, which is a leading player in the LNG shipping industry, to design the 30,000 cbm LNG carrier. The bilobe type 30,000 cbm LNG carrier utilises existing technology which can be applied to existing and new vessels today. HHIC continues to be at the forefront of technological innovation in the LNG shipping sector to improve the service for our existing and future customers."
Leondias Karitsios, Lloyd's Register's Gas Technology Manager commented: "Interest in small-scale LNG is growing fast. This project has demonstrates a path to a practical, buildable LNG carrier for smaller cargo sizes."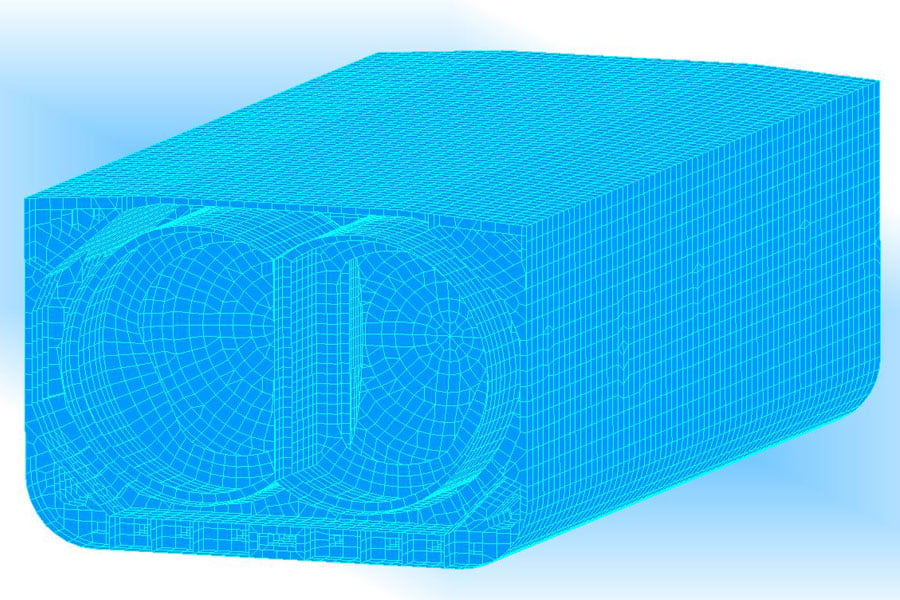 Finite element model of midship