Approval in principle awarded to new ballast-free LNG carrier design at Marintec China.
GTT and Dalian Shipbuilding Industry Co. Ltd (DSIC) received approval in principle (AiP) from Lloyd's Register (LR) for their 30,000m³ B-FREE LNG carrier design in a ceremony at Marintec China yesterday.

The spread of invasive species is recognised as one of the greatest threats to the ecological and economic well-being of the planet and this new design could provide a ballast-free shipping solution.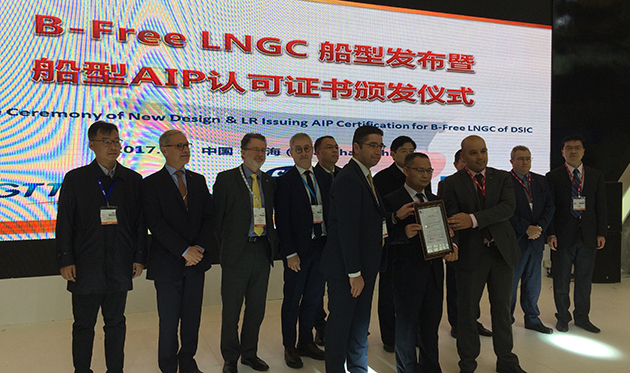 The innovative design has several advantages over conventional designs (based on Type C cargo tanks and using ballast), combining environmentally-friendly features with increased efficiency as well as predicted lower build and operating costs.
Savings in build cost are expected through the avoidance of fitting a ballast water treatment system (BWTS) and not having to comply with the Performance Standard for Protective Coatings (PSPC) for ballast tanks, ballast piping, pumps and values. Operational savings should be seen from not having to, for example, run and maintain a BWTS, ballast systems and maintain ballast tank coatings. Initial predictions also show lower fuel consumption compared to 'standard' designs as well as lower LNG boil-off due to the GTT membrane, compared to a Type C tank.
Ma Yingbin, Vice Chief Engineer, DSIC, commented: "While we are still in the initial stage of the project and the design is subject to ongoing change, the initial results are indicating that we will meet our goal of having a ballast-free ship that is equal to, or better than existing conventional designs. The cumulative improvements in operating costs coming from the combination of the various innovations and new ideas applied to the design are better than we anticipated, although we should be mindful that this is only the preliminary results phase and we need phase two to further refine and validate the design, we are hopeful this will result in more efficient small-scale LNG carriers."
He added: "Interest received from owners and operators so far has exceeded our expectations. We have been consulting some experienced owners for their thoughts and feedback."
David Colson, Commercial VP of GTT, said at the occasion: "The ballast-free was an old idea that GTT had in mind several years ago and we are excited to see it now materialised in a conceptual design thanks to the excellent work from DSIC R&D institute and the very strong support and advice of LR. The good teamwork between the three parties in China enabled us to move forward with the design to this stage. The first results show that this ballast-free design has also introduced complimentary advantages such as a reduction in the number of cargo tanks, handling equipment, engine power, and more. We are excited to move forward with the next phase."
Nick Brown, LR Marine & Offshore Director, commented: "We are privileged to be working on this truly innovative design that could bring many benefits to the industry as well as offering a potential solution to one of our most challenging environmental concerns. It is an honour for us to have been once again selected to support DSIC. This work builds on the JDP we had together for a low-ballast VLCC and also follows on from the work LR did in supporting DSIC to prepare for building LNG carriers using GTT membrane technology."