LR presents AiP to the shipyard Wison.
LR announced today during a presentation at Gastech – the leading exhibition and conference for the global gas, LNG and energy industries held 17-20 September in Barcelona, Spain – an AiP to Wison with respect to their 300MW FSRP concept design.
FSRPs are a relatively new design concept and the market is expected to expand in coming years. Essentially, a floating LNG power plant, the FSRP receives LNG from ships and stores it within its own tanks below deck, before regasifying the LNG and using it to fuel an onboard power plant. In this new design the power plant has a capacity of 300MW.
LR, Wison and Gaztransport & Technigaz (GTT) are working together in developing this 300MW FSRP unit. It will be designed, constructed and built to supply 300MW electrical power, using LNG as fuel. GTT is an engineering company designing cryogenic membrane containment systems dedicated to the transport and storage of liquefied gases, and in particular LNG. The FSRP will be barge-type moored at a jetty or near-shore.
A Joint Development Project (JDP) agreement between LR, Wison and GTT has also been signed today. This includes the undertaking of further work for example, more detailed design reviews, support for the preparation of Wison to build GTT membrane type LNG tanks as well as possible additional items like risk assessments.
Maarten Spilker, Wison Solutions Director said: "Our integrated LNG-to-power solution is a response to market demand for affordable power sources with a short development schedule. Using proven technology as building blocks, we put together a robust design. Together with Lloyd's Register, GTT and other key technology suppliers we will continue to mature and refine our product. High efficiency LNG-fuelled floating power plants offer a unique set of advantages over other power solutions. We will be ready to deliver."
Philippe Berterottière, Chairman and CEO of GTT declared: "GTT is proud to place its LNG expertise in the service of such an innovative development project supporting the use of LNG for Power generation in a FSRP."
David Barrow, LR Commercial Director – Marine and Offshore commented on presenting the AiP certificate: "LR has a unique expertise in the LNG field which is recognised by the market and which we are proud to be able to bring to this project, supporting and working in collaboration with Wison and GTT. We look forward to providing further strong technical support to the project, drawing on LR's strong track record in LNG shipping and our experience in floating LNG."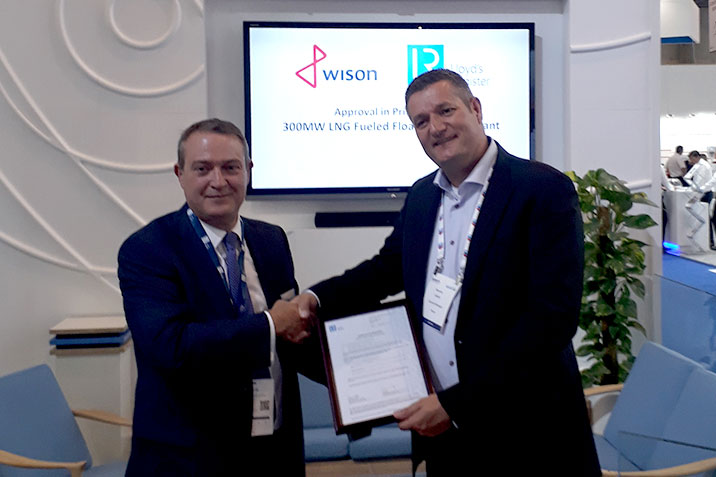 David Barrow, LR Commercial Director – Marine & Offshore presents the AiP to Maarten Spilker, Wison Solutions Director at Gastech.