Lloyd's Register's Richard Sadler has taken the decision to step down as CEO at the end of 2015, after eight years in the role. The Lloyd's Register Group Ltd Board of Directors has announced the appointment of current CFO, Alastair Marsh, as his successor.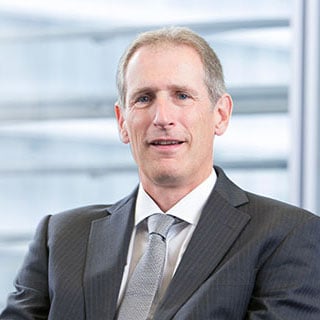 Since Richard Sadler's appointment as CEO in 2007, he and the executive team have implemented a group strategy that has seen Lloyd's Register (LR) diversify its service portfolio and grow to a £1bn turnover business. This period saw the creation of the Lloyd's Register Foundation in 2012, maximising the group's contribution to society, and technology leadership through LR's Global Technology Centres in Southampton and Singapore.
After eight years in the role, Richard indicated to the Board that he would like to step down and pursue new challenges. The Board started the process to search for and appoint a new CEO to write the next chapter of LR's 255 year history.
Over the past six months, the Board of Directors have conducted an internal and external review of potential successors and have unanimously agreed that Alastair Marsh possesses the capability and leadership to take on the role as LR's next CEO.
Alastair Marsh joined LR as Group Financial Controller in April 2007 and was appointed as Group Finance Director in April 2008. Previously he held a number of senior financial management positions, including CFO and Company Secretary of Superscape Group plc, and prior to that he held similar roles at Easynet Group plc, Laporte plc, and NCR Corporation.
Alastair is a graduate in Business Studies & Accounting from Edinburgh University and a member of the Institute of Chartered Accountants of Scotland. He worked with Price Waterhouse for five years, in both their Edinburgh and Brisbane offices, on a broad range of audit and corporate finance clients, covering a wide range of industries. Alastair also sits on the Board as Executive Director and a number of Boards of subsidiary companies.
Richard and Alastair have forged a very effective partnership over the past seven years. Alastair's deep knowledge and understanding of LR's business, markets and clients will ensure a smooth succession. Richard will pass the CEO role to Alastair on the 1st October 2015 and commence a formal handover period until the end of December 2015. Simon Nice, currently Group FP&A Director, will take up the role of Interim Group Financial Director during the transition.
Richard Sadler said: "When I was appointed in 2007, I made a public commitment that I would serve as CEO for five years. After eight years in the role I believe it is now time to step down to pursue new challenges while I'm still young enough. It has been a great honour to serve as CEO of LR – it is a unique organisation with a history, purpose and values of which I am immensely proud".
Having joined LR in 1976 from the Royal Navy, Richard worked in the marine, industrial and offshore sectors before moving overseas for 12 years. He returned to the UK in 1995 as Corporate IT Business Manager and held a number of posts before becoming Marine General Manager, London in 2000. Richard moved to the Royal Bank of Scotland in 2004 as Director Ship Asset Management, and re-joined LR in 2006 as EMEA Director. He formally took up the position of CEO on 1 July 2007.
Alastair Marsh said: "I feel very privileged to have been asked by the LR Board to take over from Richard as CEO. I am passionate about LR as an organisation and I am delighted to have been given the opportunity to lead LR through what promises to be exciting and challenging times ahead for the clients and industries we serve."
LR's Chairman, Thomas Thune Andersen, said: "I would like to thank Richard for his dedication, vision, drive and passion in leading LR over the past seven years. I have every confidence that Alastair will uphold LR's values and build on Richard's achievements to ensure the continued success of LR".