Presentation of the AiP to Jiangnan Shipyard (Group) Co., Ltd was made in a ceremony at the LR stand, C130, at Gastech 2018.
LR announced today during a presentation at Gastech – the leading exhibition and conference for the global gas, LNG and energy industries held 17-20 September in Barcelona, Spain – an Approval in Principle (AiP) with Jiangnan Shipyard (Group) Co., Ltd (Jiangnan).
Jiangnan has developed a 7,500 m3 LNG bunker vessel (LBV) design to supply gas for ships using LNG as fuel in support of the rapid growth of LNG fuel demand in the marine market, connected to the approaching global sulphur 2020 limit.
Hu Keyi, Jiangnan Technical Director, said: "The 7,500 m3 LBV has a compact design for compatibility with quays and ships, a well-developed hull to reach economical speed-power performance. A dual fuel diesel-electric (DFDE) propulsion system, two azimuth thrusters and one bow thruster to provide excellent manoeuvrability and safety while in port/at anchorage."
He continued, "Two IMO type C LNG tanks and a state-of-art designed cargo handling system are equipped onboard to provide variable means of cargo handling, boil-off gas (BOG) management and ship to ship (STS) transfer."
David Barrow, LR Commercial Director – Marine & Offshore, commented: "LR has classed several LNG bunkering vessels and is delighted to be able to use our experience in helping industry players develop LNG Bunkering Vessel designs to support Jiangnan with this project. Jiangnan prepared the concept design and outline specifications and LR provided assistance and support in terms of the specification review. LR also checked the design against IGC code, LR Gas Ship Rules as well as other relevant applicable standards.
This design is a member of the LNGRELAY family, the family of LNG bunker vessels with different cargo capacities developed by Jiangnan, which include a 5,500 m3 LBV, 7,500 m3 LBV, 10,000 m3 LBV, 12,000 m3 LBV, and 20,000 m3 LBV.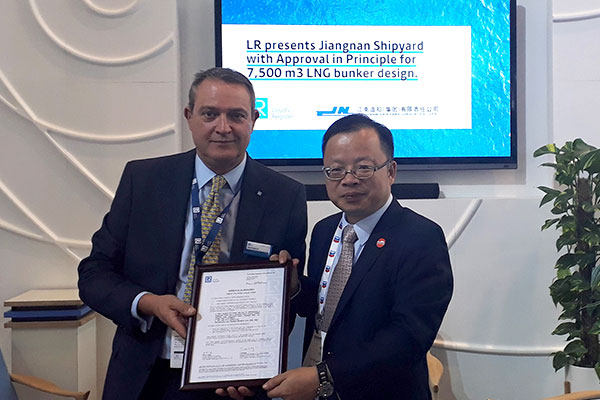 LR's David Barrow presents the AiP to Jiangnan's Hu Keyi at Gastech.