A project to build a new generation of offshore patrol vessels (OPVs) – approved and classed by LR – has helped to rejuvenate the UK-based shipyard of Appledore The second of three 90-metre-long OPVs, built by Babcock International and classed by LR.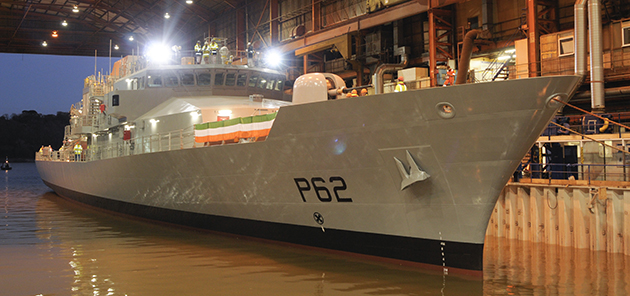 The OPV is called LE James Joyce and follows the 2014 delivery of her sister vessel LE Samuel Beckett, which bears the same name as the vessels' class. The third vessel, LE William Butler Yeats, which is being built at the same Babcock International shipbuilding facility at Appledore, Devon, UK, is due to be delivered in July 2016.
The three OPVs, which have been designed by Vard Marine, are replacing three earlier offshore patrol vessels, the Deirdre Class LE Emer, LE Aoife and LE Aisling, which were commissioned with the Irish Naval Service from 1978 to 1984.
The vessels are designed to carry remotely operated submersibles plus a decompression chamber for divers – to enable search and rescue, search and recovery, undersea exploration and increased sea area surveillance. Among their other features are dynamic positioning (DP) systems and power take-in systems to enable the main engines to shut down and power to be sourced from shipboard electricity generated by three 630kW alternators – with emergency power provided by a 320kW generator.
Richard McLoughlin, LR's Senior Surveyor on the project, said: "This project has seen a rejuvenation of shipbuilding in Appledore and it has been exciting to be part of this process through to vessel completion. LR has assisted in ensuring deliveries have met contract specification for both classification and requested statutory compliance.
"Project challenges have involved resolving the application of a commercial rule set and statutory requirements in contrast to naval service operational requirements. It is clear the open environment created at Appledore combined with the strong build heritage has again produced successful deliveries."
Babcock International's Head of Project and Acting Site Director, Nick Plows, said the working relationship with Lloyd's Register, the Irish Naval Service and the equipment suppliers has been excellent throughout the programme and goes a long way in delivering an excellent vessel that will serve our customer, the Irish Naval Service, for decades to come.