Babcock International has been recognised by LR in completing a critical step towards achieving the LR General Approval for an LNG ship for its innovative ecoSMRT® single mixed refrigeration reliquefaction technology.
Receiving LR Risk Based Design (RBD) process approval at Gastech 2018 in Barcelona, ecoSMRT® has successfully completed extensive hazard identification (HAZID) and hazard and operability study (HAZOP). This certification provides endorsement that Babcock's ecoSMRT® technology has been developed to the high standards required by LR. RBD is in the final stage of review and certification for equipment ahead of receiving LR General Approval for Ship Application (GApp).
ecoSMRT®, Babcock's disruptive technology for the LNG sector, delivers significant cost and footprint savings for its global customers in addition to environmental benefits and waste reduction. The system is designed to handle increased volumes of boil off gas (BOG) through a single compressor without the need for external pre-cooling.
Neale Campbell, Babcock LGE Managing Director, said: "Our RBD approval by Lloyd's Register highlights Babcock's innovation within the liquefied gas market and ecoSMRT® is a shining example that we are trusted to deliver. We are delighted that this technology has progressed from AiP to design maturity in just 17 months and we look forward to being fully GApp accredited."
Jose Navarro, LR Global Gas Technology Principal Specialist – Marine & Offshore, said: "Through our Risk Based Design (RBD) appraisal, the engineering solution of Babcock's ecoSMRT® reliquefaction system has demonstrated its safety, robustness and compliance towards the LR General Approval. Its application onboard LNG Carriers provides an efficient environmental benefit by reducing CO2 and methane emissions."
Babcock provides a range of liquefied gas solutions to its global customers including ecoSMRT®, Vent Gas Cooler (VGC™), FGSV0™ and SuperCooler™.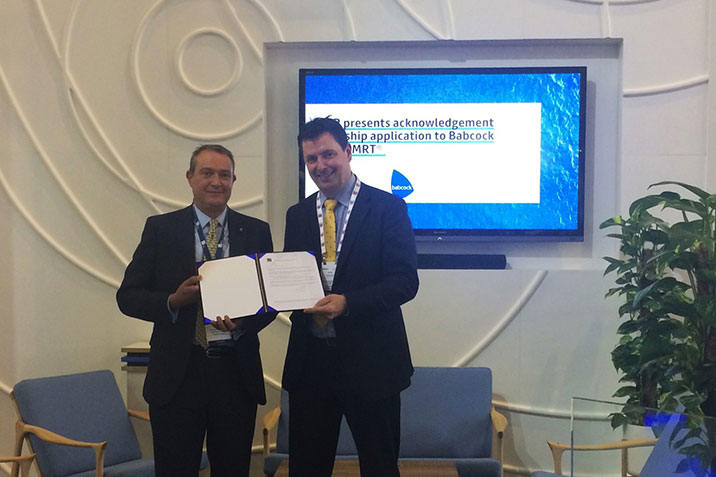 L-R: David Barrow, LR Commercial Director - Marine & Offshore presents Neale Campbell, Babcock LGE Managing Director RBD approval at Gastech 2018 in Barcelona.