First uncrewed naval vessel to achieve certification against LR's UMS Code.
BAE Systems Autonomous Pacific 24 (AP24) Rigid Inflatable Boat (RIB) has been awarded Lloyd's Register Unmanned Marine Systems (UMS) Certification. It is the first uncrewed naval vessel to achieve this certification, which verifies stringent safety and operational performance standards.
The AP24 RIB was developed by BAE Systems for the UK Royal Navy under funding from the NavyX autonomy and lethality accelerator programme, which aims to deliver new technology at pace. It is a step-change for the Royal Navy in uncrewed operations, adding capability and flexibility to naval military missions.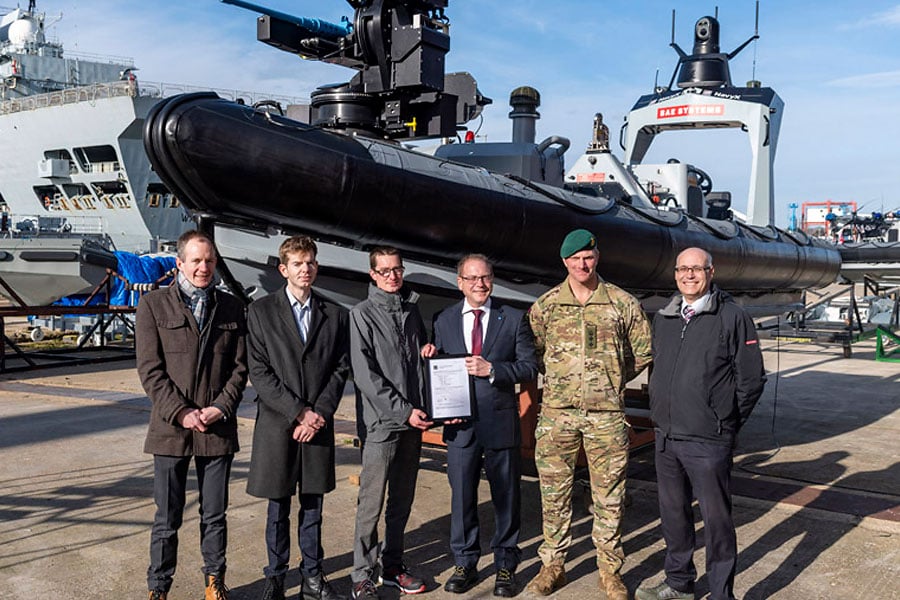 Paul James, LR's Head of UK&I Naval, said: "Our UMS Certification assesses uncrewed vessels against a set of safety and operational performance requirements to provide assurance to certify the safe design, build and maintenance.
"BAE Systems' Autonomous Pacific 24 has been tested against our assurance framework and we are pleased to provide BAE Systems the first Lloyd's Register UMS Certification on an uncrewed naval vessel."
Scott Jamieson, Managing Director, BAE Systems Maritime Services, said: "I'm really proud that our AP24 is the first naval vessel to be certified to the Lloyd's Register UMS code. It emphasises our commitment to supporting the Royal Navy's development of uncrewed military capability and will ultimately help keep sailors safe from harm."
The uncrewed AP24 RIB has potential to undertake missions such as force protection and anti-piracy, persistent intelligence gathering and maritime security to meet the evolving threats of modern warfare and keep sailors safe. It is designed to be part of a modern, multi-domain force and can share sensor data easily and securely with allies and enhance the Royal Navy's operational effectiveness at sea whilst reducing threats to its sailors.
LR's UMS Code was launched in 2017 and has since been awarded to a number of vessels including most recently the DriX uncrewed surface vessel.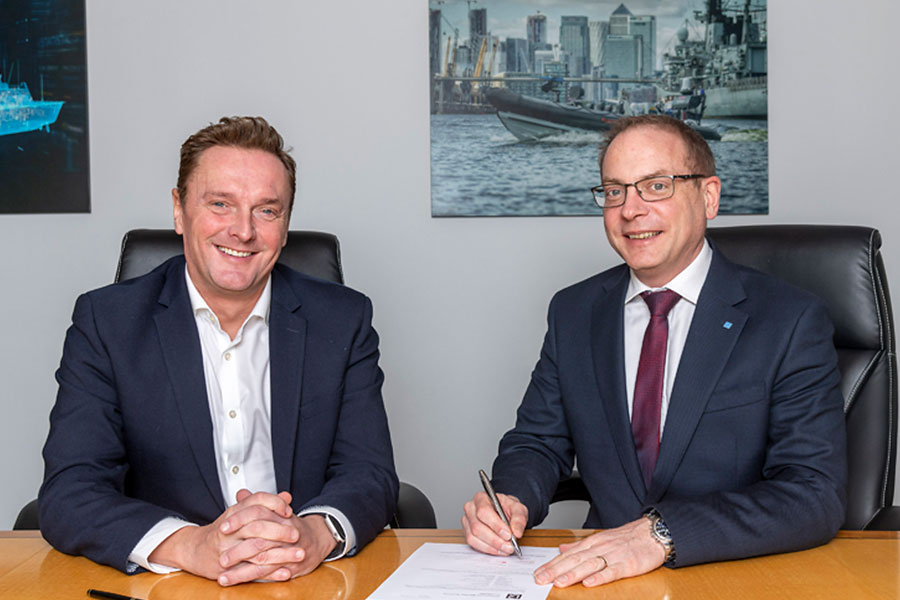 Paul James, LR's Head of UK&I Naval (right) signing the certificate with Scott Jamieson, Managing Director, BAE Systems Maritime Services.