The lead ships classed by Lloyd's Register incorporate advanced design, containment and operational features as well as the ability to cope with the harsh operating environment of the Arctic and cold places.
Dynagas, the liquefied natural gas (LNG) shipping arm of the George Prokopiou shipping enterprises, has today taken delivery of Arctic Aurora, the second of two ice-class membrane LNG tankers, during a ceremony at Hyundai Heavy Industry (HHI) Ulsan shipyard, Korea. The first, Yenisei River, was delivered yesterday.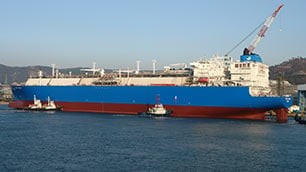 The 155,000 cbm (cubic metres) ships are fitted with GTT Mk III containment systems. Propulsion for the ships is provided by a duel fuel diesel generator engine system. Four Wartsila-Hyundai diesel engines in each ship, fuelled either by gas or fuel oil, will power two propulsion motors driving a single fixed pitch propeller. Registered in the Marshall Islands, the ships will operate on charter to Gazprom and Statoil.
With a market leading share in gas ship classification, Lloyd's Register (LR) is focused on its continuing support of innovation in gas technology. Jose Navarro, Gas Technology Principal Specialist at Lloyd's Register, commented: "It is a great honour to have been chosen to class the lead ships in this project - a continuation of our strong relationship with Dynagas and a milestone for Hyundai Heavy Industries. We have worked closely with HHI in supporting and helping enable the technological development required in these ships."
"A key achievement was implementing a fully automated bonding system for the cargo containment system's secondary barrier which was achieved using polyurethane (PU) glue. In addition, the primary barrier has been reinforced with ribs and wedges to enhance its sloshing resistance."
The design complies with LR's Ice-Class and Winterisation Rules for operation under harsh Arctic conditions, and the ShipRight FDA plus notation for a 40-year North Atlantic fatigue assessment. The ships also have been constructed in accordance with ShipRight Construction Monitoring procedures, and built to LR's Environmental Protection 'ECO' notation demonstrating the operator's commitment to, and investment in, environmentally friendly ships while also featuring an Inventory of Hazardous Materials (IHM).
The new gas carriers also use the LR Trim Optimisation solution, providing simple and accurate information to ship's staff so that they can implement operational best practice and achieve fuel savings whilst also demonstrating Dynagas' commitment to environmentally sound operations.
The ships' bridge design complies with LR's NAV1 notation, which confirms the bridge layout and level of equipment are suitable for safe periodic operation under the supervision of a single bridge watchkeeper. They also have been designed to comply with integrated bridge system (IBS) requirements for centralised monitoring and control of the bridge's navigational functions, while engine room arrangements conform with LR's integrated computer control (ICC) notation for integrated and computer based control and supervision of ship operational functions.
The accommodation arrangements fulfil the new requirements in accordance with the Maritime Labour Convention (MLC, 2006) while the ships have also been enlisted in LR's Ship Emergency Response Service (SERS).