50,000 dwt LNG-fuelled bulk carrier uses new LNG storage material approved by LR.
Hyundai Mipo Dockyard (HMD) and ILSHIN LOGISTICS have successfully delivered the world's first LNG-fuelled bulk carrier under the dual-class of Lloyd's Register (LR) and Korean Register. The 50,000 dwt bulk carrier has also been verified to be in compliance with the International Gas Fuel (IGF) Code. The vessel is the result of a collaboration project, announced in July 2016, to develop the first in a new generation of environmentally-friendly LNG-fuelled bulk carriers.

The ship has a Type 'C' LNG fuel tank with a capacity of 500m³, made of austenitic high manganese steel and located on the aft mooring deck. The material, newly developed by POSCO, has a high manganese content (approximately 26%) and is specially designed for cryogenic LNG and liquefied gas storage applications. The properties and characteristics of the high-manganese steel, as well as the required welding technology and fuel tank design, have been proven suitable for cryogenics with the support, certification and approval of LR.
LR undertook a comprehensive approach in supporting POSCO and ILSHIN LOGISTICS by providing certification of High Manganese Steel Welding Consumables, Welding Procedure Approval and Material Approval after concluding extensive development and testing. LR certification was officially issued in July 2017.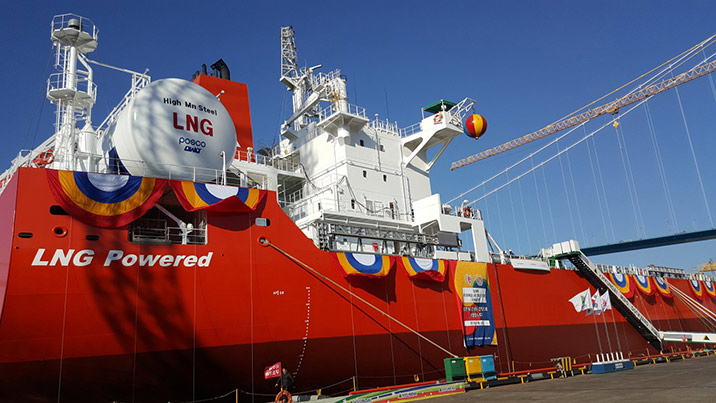 JT Lee, LR's Chief Representative & Marine Manager for Korea, commented: "I am very excited and proud to see the successful delivery of the world's first 50,000 dwt LNG-fuelled bulk carrier with contribution from LR for the certification and approval. This outstanding achievement is also attributed to a concerted effort between industry partners, with their pioneering spirit and tenacity. The successful delivery of the vessel should be a significant indication to the market of a reasonable and solid solution to the preparation for emission compliant eco-friendly designs."