Nantong COSCO KHI Ship Engineering Co. (NACKS) and Lloyd's Register have developed a new 28K dual-fuelled multi-purpose vessel (MPV) design.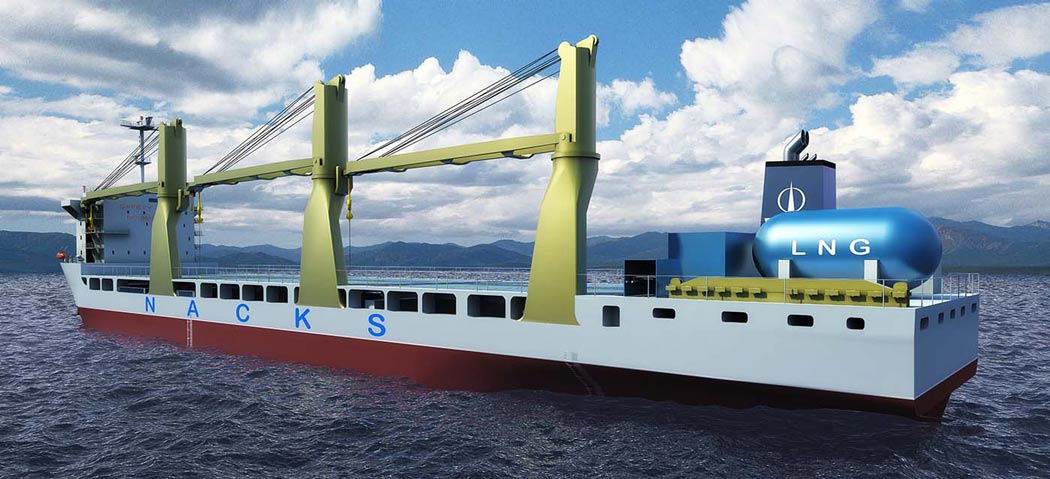 The design is an evolution of NACKS' established 28K MPV design; the new design is fitted with a 500m3 Type 'C' LNG fuel containment system located aft and on deck over the engine room and the LNG Fuel Supply System. The main engine is a MAN ME-GI high-pressure gas fuel system while the main electrical generator and boiler are in a low-pressure gas fuel system. Accommodation is located forward maximising space for cargo operations and three deck cranes (2sets x 350T, 1 set x 100 T) are situated on the port rail.

Mr.Yamamoto, Vice President of NACKS, commented: "MPVs are important workhorses in commercial shipping, providing more flexibility in operation. While the COP 21 discussions are ongoing, the industry is required to showcase an appropriate response to the need for ever-cleaner designs. This evolution of our proven 28,000 dwt MPV design demonstrates that shipping can provide clean fuel designs to meet the requirements of world trade."

The design complies with LR's Gas Fuelled Ship Rules and also has gone through LR's ShipRight ARBD (Assessment of Risk Based Design) Procedure – the highly robust risk assessment analysis and report process pioneered by LR. The dual-fuelled system design and arrangement have also achieved LR's approval in principle and Gas Ready Class descriptive note – GR(A).

Wei Ying, Principal Specialist and General Manager, LR Shanghai Technical Support Office, said: "We provide the highest level of expertise and our experience to help the industry make the best commercial decisions based on the best technical insight. We are continuing to share our understanding of marine risk and the realities of LNG as a marine fuel in both short sea and the development of designs, like this one, suitable for the deep sea trades by providing the insight and experience needed by ship designers, shipbuilders and operators."