An oil spill retrieval vessel called Gobbler, approved by LR surveys & design. With two awards prizes; Spirit of Innovation trophy & the Vessel Construction & Design at the Seawork International 2015.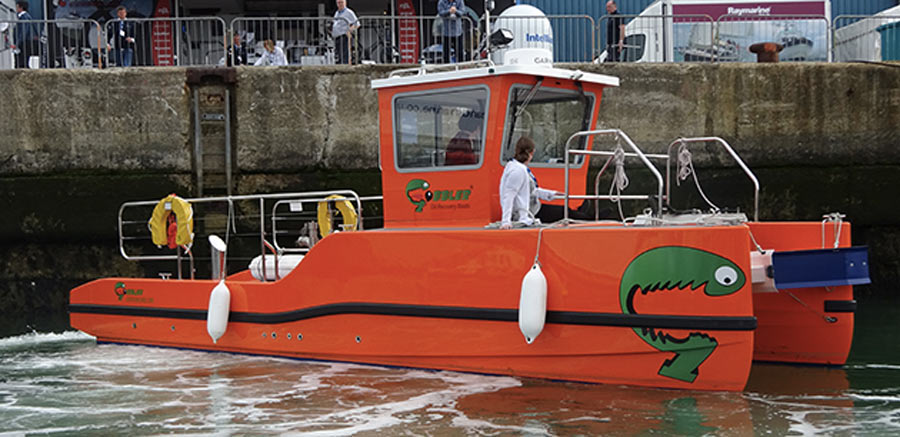 A prototype of the two-man, 8.85-metre-long vessel was included in the waterborne displays at the exhibition. Once in production, the vessels will use skimmers and pumps to help clear oil spills after oil rig failures, groundings, sea spillages and other forms of oil discharge until the main salvage teams arrive (see article in the January 2015 issue of LR's Horizons magazine).
The recovery vessel has been developed by the Portsmouth, UK boatbuilders, Gobbler Boats Ltd. Lloyd's Register Surveyor, Christian Olsen, said: "Congratulations to the team at Gobbler on their recent success at Seawork which has been the result of a number of years' hard work. The unique craft and its equipment have been designed to minimise the effects of oil spills and slicks and is an exciting new development.
"LR has worked closely with the Gobbler project team, approving the design to Lloyd's Register's Special Service Craft Rules and completing surveys during the construction. We are now working closely to certify the first vessel under the MCA Small Commercial Vessel Code of Practice."
Gobbler Boats Managing Director, Paul Jauncey, said the company aims to produce 500 Gobblers a year when the project reaches the manufacturing stage.