LR advice provides practical tips for shipowners on the data and evidence required for CII correction factors and voyage adjustments.
With IMO's carbon intensity regulations having entered into force in January 2023, operators must now begin to apply their correction factors and voyage adjustments for CII end of year verification. As a result, LR, has issued a guidance document to assist in the collection of data and evidence to support shipowners and operators in attaining CII calculations.
The guidance document has been created to offer advice and practical tips for the application of correction factors, where vessels under certain conditions can have corrections to their CII calculation by removing certain periods of their operation or by reducing the CII value based on specific criteria.
The resource also offers advice for the application of voyage adjustment, which deducts relevant fuel consumption, and the distance a vessel has travelled from the calculation of CII for a defined period, subject to certain threshold conditions being met.
LR's guidance provides applicability for both voyage adjustment and correction factors based on a definitive list of ship types, while giving the situations in which a vessel must report its total distance and fuel consumed in order to apply deductions.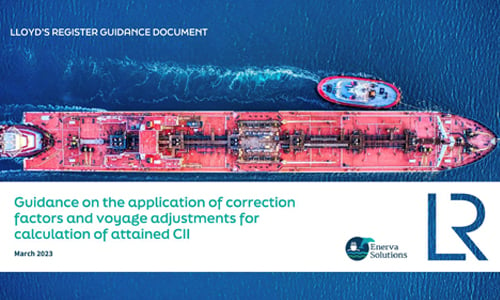 For correction factors and voyage adjustments to be applied to the final CII validation, the correct data along with supporting evidence must be submitted to the verifier. By keeping up-to-date records of relevant data and evidence, ship owners can ensure correction factors and voyage adjustments are applied quickly and efficiently ahead of CII verification, avoiding delays.
Brijesh Tewari, Lloyd's Register, said: "LR's guidance will be a valuable tool for ship operators, breaking down what is needed to attain correct CII calculations. It is crucial for operators to accurately capture and record the data needed for applying correction factors and voyage adjustment throughout the CII reporting period and LR's guidance document for correction factors and voyage adjustment application helps to simplify this process, ensuring that vessels meet IMO's mandated regulations for carbon intensity."
Regulations were introduced by IMO in November 2022 and Energy Efficiency Existing Ship Index (EEXI) calculations became mandatory at the turn of the year, requiring ships to improve their energy efficiency in the short term and reduce their greenhouse gas (GHG) emissions by reporting their annual operational carbon intensity indicator (CII) and CII rating.