Latest update includes full integration of United Kingdom Hydrographic Office ADMIRALTY Digital Publications (UKHO ADP) data, helping shipowners and operators with efficient chart and publication management.
i4 Insight has released Integrated Maritime Suite (IMS) 2.3, the latest version of its advanced back-of-bridge planning station that integrates with its fleet optimisation platform, supporting users with a modern and efficient workflow for automated chart and publication management.
The i4 Insight fleet optimisation platform draws data from multiple maritime sources to provide outcome-based fleet operations improvement and IMS consists of a comprehensive set of tools for route planning, voyage optimisation, as well as graphical and quantitative analysis of weather and navigational data.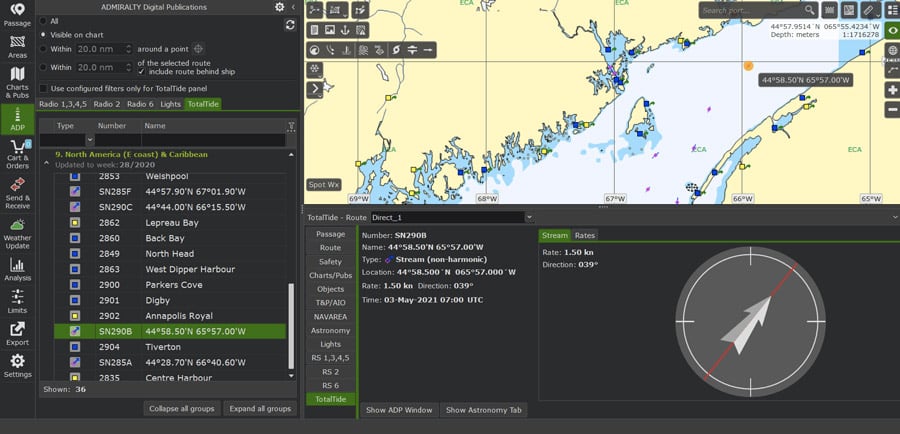 The IMS 2.3 update includes the following:
Subscribers to UKHO ADP can view a full integration of ADP data directly in IMS, overlayed on top of Electronic Navigational Charts (ENCs) and the ship's route, with ADP objects fully integrated into the voyage planning workflow and reports. These include: ADMIRALTY Digital List of Lights (ADLL); ADMIRALTY Digital Radio Signals (ADRS) and ADMIRALTY TotalTide (ATT).
With fully embedded ADP support, IMS 2.3 offers a solution for users looking to replace the UKHO's now-discontinued ADMIRALTY Gateway software and the ADMIRALTY e-Navigator Planning Station.
The "smart" management of S-63 downloads means that users can configure IMS to only download base cells and updates that are in the user's working folio or those for which they have permits. Users can now avoid having to manually select individual cells to download or having to select the entire world if they do not want to manually manage individual cells.
The NAVAREA Warnings Service has now been integrated into IMS and delivers an automated solution for using data from the World-Wide Navigational Warning Service (WWNWS). The service is continually updated and can integrate with the crew's existing voyage planning and weather routing workflow.
The extended 30-day air temperature and sea surface temperature forecasts within the IMS application enables users to export data to Microsoft Excel for use in planning cargo heating operations. In addition, the new astronomy tab automates celestial calculations, meaning users do not have to look up tables manually.
A series of other updates and improvements have also been introduced throughout the IMS application, including significant updates to the user interface to support application responsiveness and an efficient workflow.
"We are excited about the latest release of our Integrated Maritime Suite" said Joel Meltzner, i4 Insight Chief Executive Officer. "This update is another example of how i4 Insight is continuing to strengthen our platform, so customers have access to the information they need when they need it, enabling them to realize greater operational efficiency and fleet performance."