Agreement signed at Gastech with Hyundai Heavy Industries.
7 April 2017 - LR and Hyundai Heavy Industries (HHI) have signed a joint development project (JDP) to commence an approval in principle (AiP) for a barge mounted power plant, Hi-Floating Power™.
Hi-Floating Power™ is HHI's floating power plant solution capable of generating maximum power of 221MW by running 13 units of HiMSEN dual fuel engines, upgradeable up to 400MW through the addition of extra HiMSEN dual fuel engines.
The design of the Hi-Floating Power™ combines HHI's shipbuilding expertise with advanced engine engineering and manufacturing capabilities. By separating duel fuel engines into two independent compartments it provides more reliable operation, even in the case of emergencies such as fire and/or shut-down of either compartment.
Hi-Floating Power™ can produce power with barge-mounted generators using natural gas sent out from adjacent LNG FSRUs via jetty or marine gas oil stowed on board as a back-up fuel. By removing the need for LNG storage and regasification facilities onboard, design and build time is shortened with simpler configuration and improved safety features.
The mobility feature allowing the generation of electricity in collaboration with LNG FSRU only when needed and being independently stationed when not in operation, brings increased economic solutions to operators. The three different types of 4-stroke dual fuel engines model of Hi-Floating Power™, which can be selected as per the client's preference, will allow operators to enjoy operational flexibility as well.
Mr Chang, Executive Vice President of HHI said, "Since we have been given a list of inquiries of much more economical and flexible floating power generating plants from the market, we come to conclusion that there will surely be demand for the new concept of floating power plant. And that's the rationale behind the JDP signed by HHI and Lloyd's Register today. We do believe the JDP will bring a win-win solution for both companies and will surely lay a solid foundation for the era of new floating power generating plants."
In response, Jin-Tae Lee, Korea Chief Representative & Marine Manager, Lloyd's Register, said "We are very pleased to be able to work with HHI on Hi-Floating Power™. Gastech is the perfect platform to be able to announce the commencement of the approval in principle and we look forward to supporting HHI in this process".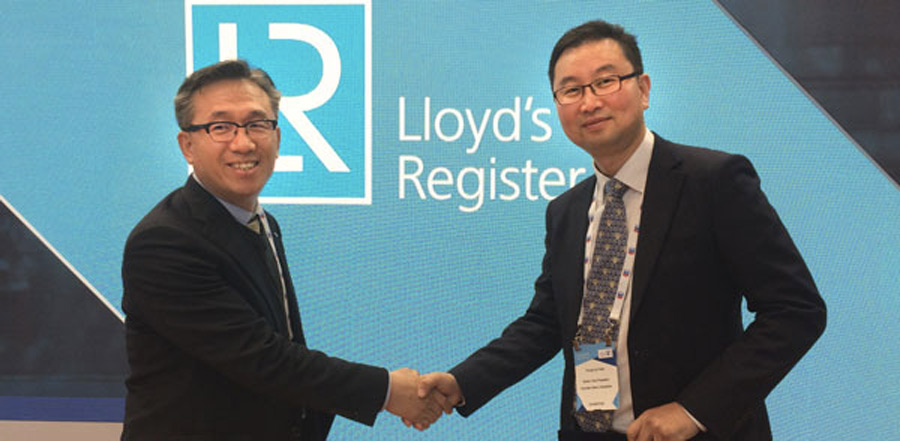 Left to right: Chung-Sik Hong, Business Development Manager Korea, Marine & Offshore, Lloyd's Register and Young-jun Nam, Senior Vice President, Initial Design Office, Shipbuilding Division, Hyundai Heavy Industries
For more information please complete the on-line form and we'll get back to you. Alternatively contact your nearest Marine office.