Strong relationships at the fore as LR marks 60 years of operation and 50 years of working with Hyundai Heavy Industries Group since its formation in 1972.
A year of celebration marking Lloyd's Register's (LR) 60 years of operation in Korea concluded with the organisation being ranked as the number one classification society on classification technical service by the Korea Offshore and Shipbuilding Association (KOSHIPA).
This was the third year in a row that this evaluation – undertaken by eight Korean shipbuilders (DaeSun, DSME, HJSC, HHI, HMD, HSHI, SHI, K shipbuilding) – has recognised LR with the number one ranking.
LR enjoys strong relationships with Korean shipbuilders including HHI Group, the world's largest shipbuilding company and a major heavy equipment manufacturer, which has also been celebrating a key operational milestone with its 50th anniversary.
Commenting on the anniversary, Andy McKeran, Lloyd's Register's Chief Commercial Officer spoke of the close relationship both organisations share, along with LR's proud history in Korea: "Lloyd's Register has been supporting clients as a trusted maritime adviser in the Republic of Korea for over 60 years, standing side by side with industry leaders as the country became the leading shipbuilder in the world, an achievement which it maintains to this day.
"Hyundai Heavy Industries has been at the centre of Korea's shipbuilding growth and innovation in the last 50 years, and LR is proud to work together with Hyundai on these exciting projects. We look forward to the continued partnership, prioritising safety at sea, driving forward maritime's digital transformation, and enhancing survey regime efficiency as the industry navigates the challenges of the energy transition," McKeran said.
Recent projects with HHI include the Approval in Principle (AiP) for two container ships equipped with various measures for mitigating of container loss at sea. The 13.2K TEU and 15.9K TEU container ships which have been approved, include anti-rolling devices and enhanced lashing systems which combat some of the main reasons for container loss at sea such as extreme roll motion, effects of GM (metacentric height) and container lashing system failures.
In addition to this AiP, LR has also issued an SCA (Software Conformity Assessment) for HHI's Digital Hi-PIX Digital Twin core technology to predict the structural integrity of an IMO Type B fuel tank.
The Digital Twin technology shows a virtual model of the IMO type B tank and can build a Finite Element (FE) database after analysis of situations that a tank may experience. The software can also predict current tank conditions based on the FE database from measured signals, determining the structural integrity of a tank based on predictive information. The Hi-PIX Digital Twin Technology was assessed on target ship H3264, HHI's 15.3k TEU LNG dual-fuel container ship.
Marking the events in Seoul, LR and HHI has also announced a Joint Development Project (JDP) to promote a new way of working with a 'Future Shipyard Model'. The model will see the advancement of shipyard working with LR's Shipyard Digital survey platform and remote survey capabilities prioritising increased productivity and reduced safety risks.
Working together with HHI, the JDP will aim to reduce intangible loss in shipyards such as waiting time, weather limitations, survey preparation and time/place limitation. The JDP will focus on a Digital platform – HSHI Q-Win – to achieve reliability, objectivity and transparency by recorded and saved data – (360degree VR, Livestreaming, Video, Photo).
Wonho Joo, Hyundai Heavy Industries' Chief Technology Officer, said: "Currently, the shipbuilding and marine industry needs to make efforts to secure technology leadership and meet the requirements of customers in the midst of big paradigm shift due to the decarbonisation and digitalisation.
"Our good partner Lloyd's Register has been staying with us all along on our decarbonisation and digitalisation journey. we will continue our close and constructive cooperation and encourage new value creation and leading the market in satisfying ever more complex customer needs." Mr. Joo commented.
The projects follow the commemoration of LR's 60th year of working in the Korean Republic, marking the celebrations back in November with a dinner reception for representatives of Korean shipyards and ship owners, along with roundtable talks at the British Embassy in Seoul.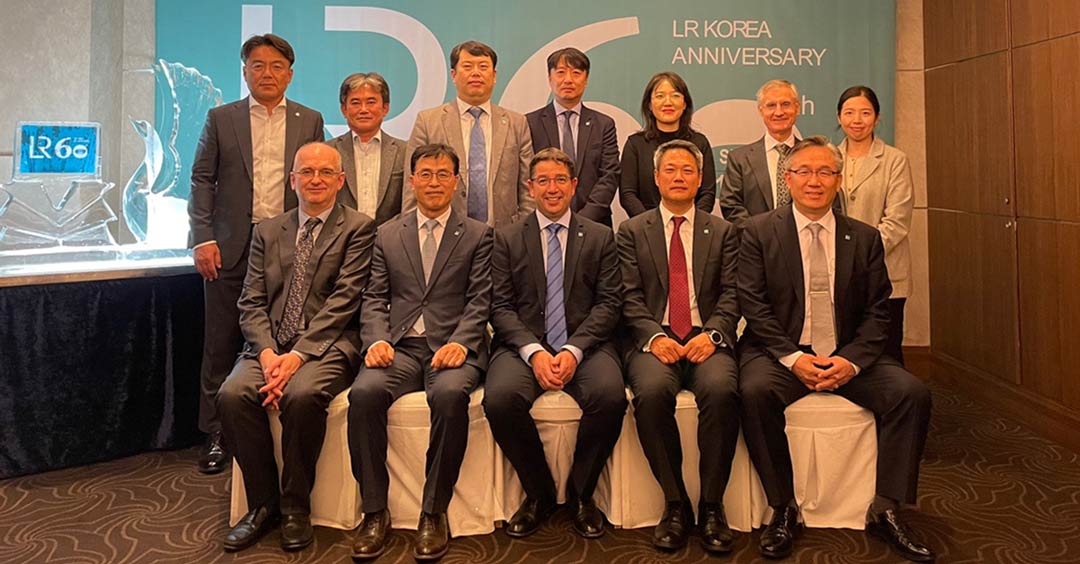 Lloyd's Register representatives including CEO Nick Brown enjoyed dinner with representatives from the Korean shipbuilding industry, celebrating LR's 60-year anniversary in the country