Industry leaders congregate at Fenchurch Street to advance LR's mission of 'working together for a safer world'.
Lloyd's Register's (LR) Advisory Board has met in-person for the first time since the start of the COVID-19 pandemic. The board, which is non-statutory and voluntary, is charged with advancing LR's mission of 'working together for a safer world,' and to further challenge the company's organisation direction and contribution to the wider maritime industry.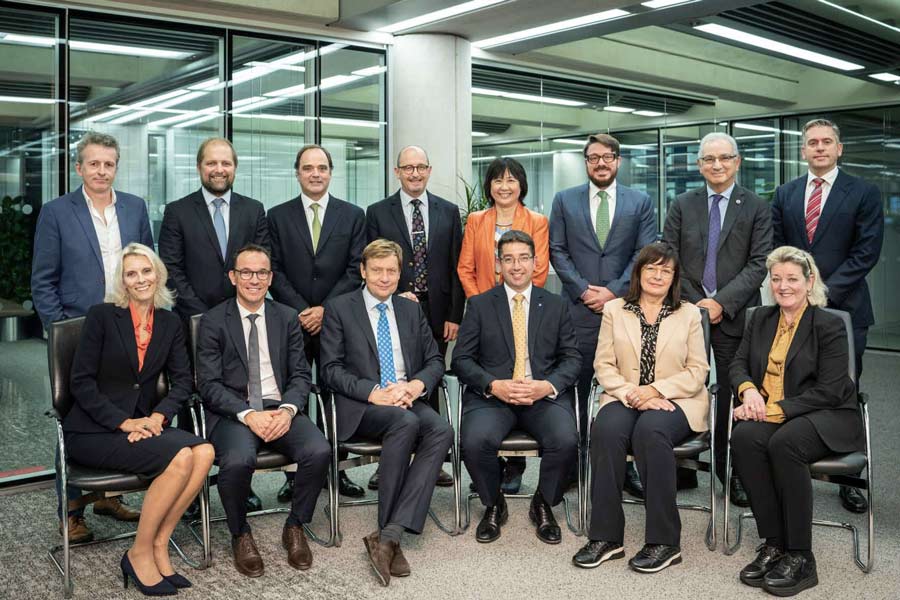 As a committee, the LR Advisory Board seeks to utilise the collective experience of different board members to help steer the direction of the LR business. Board members represent key areas of maritime as well as geopolitics, technology, sustainability and digital.
The Advisory Board is chaired by Thomas Thune Andersen, LR Chairman and spearheaded by Nick Brown, LR CEO. Professor Richard Clegg, Chief Executive of LR Foundation is also on the board.
This is the first meeting of the Advisory Board since Nick Brown took the helm in January 2021 and follows the June 2021 divestment of LR's Business Assurance and Inspection Services division, in which LR outlined its growth strategy to become the go-to partner and advisor to the maritime industry and broader ocean economy.
Board members from LR include Philippa Charlton, Chief Marketing Officer, Suzanne Johnson, Head of Sustainability and Senior Advisor to United Nations Global Compact's Sustainable Ocean initiative, and Nial McCollam, Chief Technology Officer.
External board members in attendance include:
Jan Dieleman, President of Cargill Ocean Transportation

Stephen Fewster, Global Head of ING's Shipping Finance Group
Patrizia Kern, Leader of Swiss Re's global marine business for Corporate Solutions

Miriam Maes, Co-Chairman of The Energy Transition Forum

Irene Ng, CEO of Dataswift Ltd and Professor at WMG, University of Warwick

Daniel Ofer, CEO and Managing Director of Zodiac Maritime

Barry Roche, Managing Director of Rosenblatt, City Law Firm
Kristian Teleki, Global Director of the Ocean Programme at WRI
Board members Yee Yang Chien, President / Group Chief Executive Officer of MISC Group, and Hege Skryseth, Executive Vice President of Kongsberg and CEO of Kongsberg Digital were unable to attend the inaugural Advisory Board meeting at Fenchurch Street, London.
Each board member serves for a three-year term.