LR has signed an agreement to work together with MarineCFO to provide comprehensive solutions for compliance with Subchapter M.
This follows LR formally announcing to the United States Coast Guard (USCG) its intention to assume Subchapter M third party organization duties.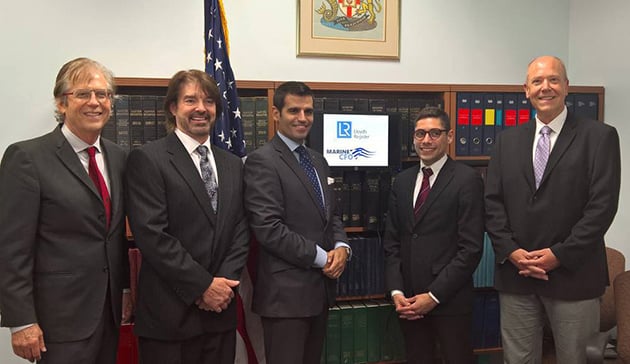 (L-R) Chris Desmond (LR), Dean Shoultz (MCFO), Rafael Riva (LR), Michael Klein-Urena (LR) and David Hanowski (MCFO)
On 20 July 2016, the USCG's Subchapter M of Title 46 of the U.S. Code of Federal Regulations became effective. This requires towing vessels greater than 26 feet or those less than 26 feet engaged in the movement of oil or hazardous material to be fully compliant by 20 August 2018. Upwards of 5,000 previously uninspected towing vessels are expected to now enter into a USCG inspection regime which includes the development, certification, and implementation of towing safety management systems by workboat operators.
"The benefits of innovative thought leadership, a common maritime heritage, and a shared attitude towards mariner safety has never resonated more fervently than through this Subchapter M commitment by Lloyd's Register to the American towing industry," said Mark Darley, LR's Marine and Offshore Manager for the Americas; "we are delighted to be writing another exciting chapter in our long and storied history."
"Subchapter M is an opportunity for the American inland towing industry to innovate effective workboat safety management systems that other maritime markets can easily emulate. Lloyd's Register and MarineCFO are perfectly positioned to assist in the implementation and ongoing support of Subchapter M and the requisite Towing Safety Management Systems," explained Dean Shoultz, CTO of MarineCFO.
LR is in unique position to assist the towing vessel industry with meeting the requirements of Subchapter M with extensive experience in safety management systems, inspection expertise and full authorisation granted by the USCG. LR is also a global market leader in the tug and inland waterway markets, classing over 21% of the world's IACS tugboat tonnage, including 30% of the IACS tugboat tonnage on order.
A trusted technology provider to the American workboat industry since the late 1990s, MarineCFO has developed Vessel365, a cutting-edge software package that provides an efficient, comprehensive, and cost-effective solution to the documentation requirements under Subchapter M.
"Lloyd's Register is a known market leader in the global inland waterways segment, and we bring that practical knowledge, technical expertise, and innovative mindset to the US. The recurring challenge for towing vessel owners will be to implement a compliant towing safety management system with as little impact on commercial operations as possible. LR has built a reputation in the US on customer satisfaction through value and flexibility. The large LR survey and audit staff are strategically distributed throughout the country to meet the expansive delivery requirements created by Subchapter M," commented Rafael Riva, LR's Marine and Offshore Business Development Manager for the Americas.
"Any viable towing safety management system must be complemented by a transparent, easy to use recordkeeping solution that is scalable, affordable, and dependable. Vessel 365 exceeds Subchapter M recordkeeping requirements and is the natural complement to LR's compliance and quality assurance service portfolio. The Subchapter M agreement between Lloyd's Register and MarineCFO will be a tough combination to beat especially from a pricing, servicing, and technology perspective," said David Hanowski, CEO of MarineCFO.
According to Riva, the focus of the combined LR and MarineCFO efforts will be small and mid-sized towing fleets operating in the Mississippi, Ohio, and Tennessee River Valleys, as well as coastal tug fleets operating on the East Coast and Pacific Northwest.
To find out more about LR's solutions for compliance with Subchapter M, go to www.lr.org/subchapter-m.