Lloyd's Register's work in the laboratory and growing experience as a market leader on the water, is helping operators save fuel and increase efficiency, while reducing emissions
LR's experience with large battery installations is captured in a new guidance document aimed at facilitating a risk-based approach to battery use. The guidance describes the key hazards to consider when installing battery technology, and gives an overview of our non-prescriptive approach to approval. The guidance also covers battery chemistry and industry standards.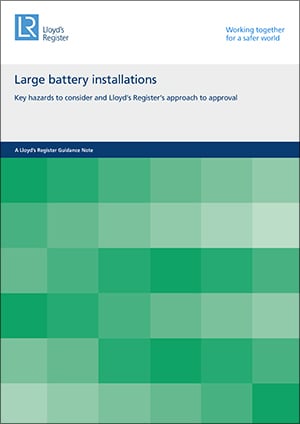 The guidance starts at the beginning of a battery system's life cycle when the cells are being manufactured, and goes on to consider how an installation affects or is affected by a vessel's power system, placement on board, ventilation, fire-fighting, electrical protection and maintenance. The guidance aims to help industry consider the hazards associated with large battery installations but is not specific to a particular cell chemistry.
Louise Dunsby, Lead Electrotechnical Specialist, Lloyd's Register commented: "We aim to help industry establish a process for approving these installations which will remain relevant regardless of the way battery technology evolves.
"Advances in battery technology and energy management capability have rightly seen increasing interest in battery and hybrid power in the maritime industry. We are involved in a wide range of projects which aim to make batteries efficient, stable and commercially viable. Our work in the laboratory, and increasingly on the water, is helping shipowners save fuel and increase efficiency, while reducing emissions. Battery installations also give significant reductions in noise and vibration compared to traditional fuel-based power systems. We are excited to be playing a part in developing battery technology for a future generation of hybrid or potentially even single source vessels."
We have extensive experience of large battery installations, with the following vessels classed and in service:
Svitzer Ecotug's Perentie, Euro, Dugong and Bootie
CalMac's hybrid ferries, MV Hallaig and MV Lochinvar
KOTUG's hybrid tugs, RT Adriaan, RT Evolution and RT Emotion
Scandlines' hybrid ferries, MF Prinsesse Benedikte, MF Deutschland, MF
Schleswig-Holstein and MF Prins Richard
Four hybrid yachts (for various builders and owners)
Download a PDF copy of the guidance now
Watch a video of Louise Dunsby talking about how LR is supporting battery technology here: https://youtu.be/7uVN2QzH4us
And read more about battery technology and other areas of innovations in LR's new Marine Technology Report.