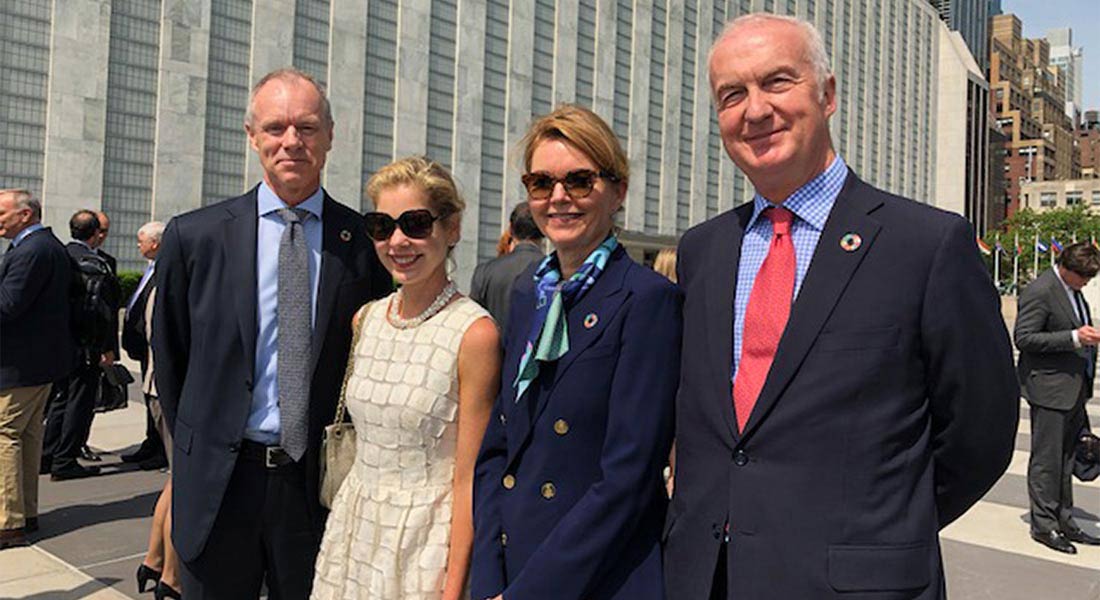 (left to right) Sturla Henriksen, UN Global Compact Special Advisor on Oceans, LR's Suzanne Johnson, Lisa Kingo, UN Global Compact CEO and Executive Director, and Tom Boardley, Executive Vice-President, LR.
Oceans cover two thirds of the world's surface but the threats they are facing have put them at risk. By 2050 our oceans are expected to contain more plastic than fish and more than 90% of coral reefs are at risk of dying off. Lloyd's Register (LR), one of the world's leading providers of professional services for engineering and technology, is committed to ocean sustainability and has become a founding member of the UN Group for Sustainable Ocean Business.
The United Nations Global Compact Action Platform for Sustainable Ocean Business launched last week on 8 June, World Oceans Day, at the UN Headquarters in New York. The Action Platform recognises that long-term ocean well-being is critical to ensuring societal well-being. The world's ocean is our greatest common resource with a significant potential to create more sustainable food, energy, transport and minerals for a growing world. The three-year, intensive programme convenes leaders in ocean industry along with the UN, world governments, academia and civil society to work towards the sustainable use of the oceans. LR joins other platform leaders in the belief that the private sector can work together with other players to solve some of the big issues around ocean sustainability.
The action platform will develop a business leadership framework focused on the growth, innovation and sustainability of the ocean, with a specific aim to scale-up the commitments and performance of companies on this critical agenda. It aims to mobilise the private sector to take tangible action, make investments and form partnerships to ensure the oceans are sustainably managed.
Alastair Marsh, CEO of LR said "We are proud to be part of the leadership of the in the UN Global Compact's sustainable ocean's efforts. LR will use our influence to encourage leading businesses and organisations to take action now with regards to our ocean's health. Ocean sustainability challenges have inherent commercial risks, as well as large opportunities. It is in all of our interests to help stabilize its health. In addition, we strongly support the 17 UN Sustainable Development Goals (SDGs) and believe that this platform will help get us further to creating the future that we want. At LR, we're shaping the marine industry's future through the development of novel and innovative technology for the next generation of assets, while continuing to deliver solutions for our clients every day. Because, while we are proud of our history, it's creating tomorrow that drives us."
The programme is part of a broader portfolio of Action Platforms introduced by the UN Global Compact to further the agenda of the UN 2030 Agenda for Sustainable Development and its 17 Global Goals. Lloyd's Register is also a signatory to the United Nations Global Compact.