LR celebrates twenty years of leadership in naval classification.
This year marks the twentieth anniversary of the first Naval Ship Technical Committee meeting, where a group from Lloyd's Register (LR), different navies from around the world and the defence industry set out to develop a unique set of Rules for navies and the naval shipbuilding industry. Following this first meeting in May 1999, there was a period of intense collaboration which resulted in the release of a provisional set of Naval Ship Rules later that year, which are now applied to a variety of different ships in the fleets of several navies. This includes the latest addition to the UK Navy, the 65,000-tonne aircraft carrier HMS Queen Elizabeth, a project LR has been involved in since its inception in 2006.
The Rules were created to provide an industry-recognised standard for the design, construction and maintenance of warships throughout their service life, addressing the incredibly unique operational and service conditions placed on them by navies. LR's Naval Ship Rules cover ship structures, machinery and engineering systems, and additional optional requirements, helping to ensure the integrity, reliability and success of Naval operations.
This was a first for both the naval industry and a classification society. Since then, LR has continued to develop the Naval Ship Rules and evolve the concept of naval ship safety assurance in partnership with client navies and the wider industry, responding to new technology and utilising two decades of experience with naval projects and ships under survey.
LR's Naval Ship Rules have been a game-changer for the industry and are now used by shipyards around the world and classification Rules are now required in nearly all naval ship specifications.
The Royal Canadian Navy, one of our partner navies, recently commented: "These Rules form the basis for what has become a highly effective package of services that provide independent assurance for those who want to ensure naval vessels are safe to operate and are capable of fulfilling their intended roles."
Paul James, LR's United Kingdom and Ireland Naval Business Manager, said: "Having been involved from the beginning, it is very rewarding to see our Rules applied to so many significant naval ships over the last 20 years.
Our experience has enabled LR to develop and grow the Rules to ensure we address each navy's assurance needs. We work directly with shipyards and navies on a regular basis to interpret and apply the Rules to complex systems or situations, learning from all projects in which we participate. LR Naval Ship Rules get updated regularly and we are highly respected for the quality of our Rules and recognised for our flexibility and understanding of naval operational requirements."
This October, LR's Naval Ship Technical Committee will meet at the Global Technology Centre in Southamp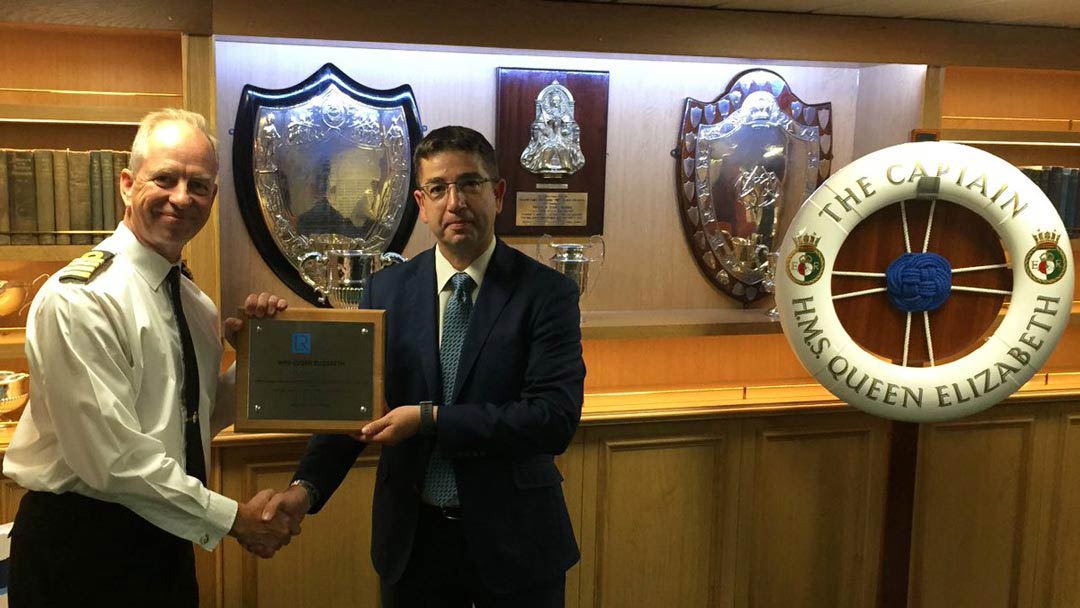 HMS Queen Elizabeth, was officially welcomed into LR class last year in a ceremony in Portsmouth dockyard. Nick Brown, LR Marine & Offshore Director, presented the class certificates to the ship's Commanding Officer, Captain Kyd.