LR has signed a Memorandum of Understanding (MoU) with Airobotics, a fully automatic drone platform, to work together to deliver faster, safer, more insightful and innovative services through the use of autonomous drones for pre-programmed inspection missions.

This milestone is a key component in LR's 'Remote Presence™ Technology Program', aiming to deliver its services more effectively to clients, not only with experts on the ground, but through remote access technologies, allowing on demand access to its expert workforce, across large distances.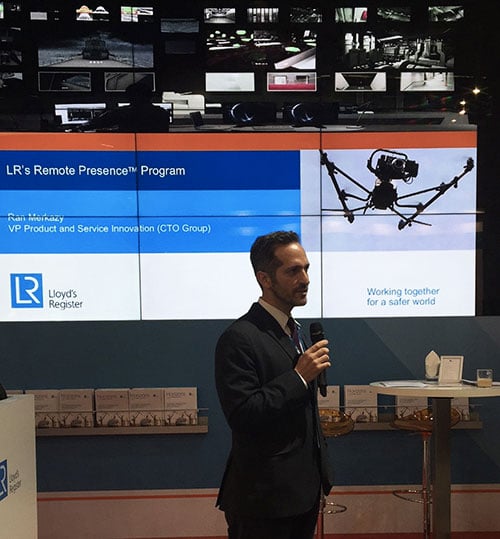 Airobotics has developed a fully automatic platform, continuously available on-site and enabling both pre-programmed mission, and expert access on-demand. The platform is completely self-sustained, able to replace its own batteries and payloads as required for different missions. Payloads include various capture devices such as HD video, HD stills imagery & infra-red, with hyperspectral and sniffing capabilities being developed. This high end system is capable of collecting aerial data and processing and analysing it in a fast, safe, and efficient way.
Above - Ran Merkazy, LR's VP Product and Service Innovation, presenting at the launch of LR's Remote Presence™ Technology Program at SMM
One of LR's core values is to share our knowledge and expertise – but sometimes that knowledge isn't available when you need it, or isn't available in your area. LR's Remote Presence™ aims to provide the flexibility you need to stay on schedule, and make sure we can still provide you the quality inspection service recognised around the world.

LR's Remote Presence program consists of five sub-themes:

Slim Presence – Stream, review and document data through the use of simple monitoring technologies.
Vast Presence – Covering large assets in a hyper efficient manner, giving better resolution visibility and insight at scale.
Secure Presence – Utilising technology to reach hard to access locations. Removing unnecessary risks while increasing reach into an asset.
Auto Presence – Delivering a set of fully autonomous services, reducing the resource needed, while increasing frequency and accuracy.
Deep Presence – Utilising a combination of technologies to enable a fully immersive, always on environment.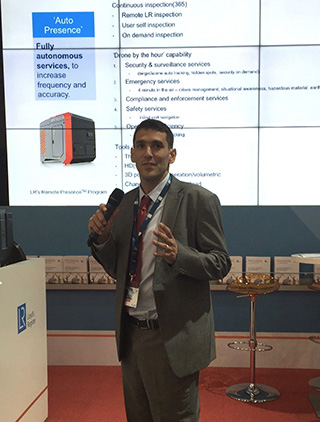 Ran Merkazy, LR's VP Product and Service Innovation, said: "LR is committed to exploring all options that new technology brings, but only using methods that ensure we maintain our high standard of service quality. Our collaboration with Airobotics is a great example of how we're innovating on our journey towards more flexible and efficient services for our clients."
Ran Krauss, Airobotics CEO, said: "Airobotics is proud to take part in LR's Remote Presence™ Technology Program. We believe our co-operation will open doors for the Maritime industry to reveal a new level of efficiency and innovation with our automated, industrial-grade drone solution."
(Above) Agmon Porat, Business Development, Airobotics, presenting at the launch.