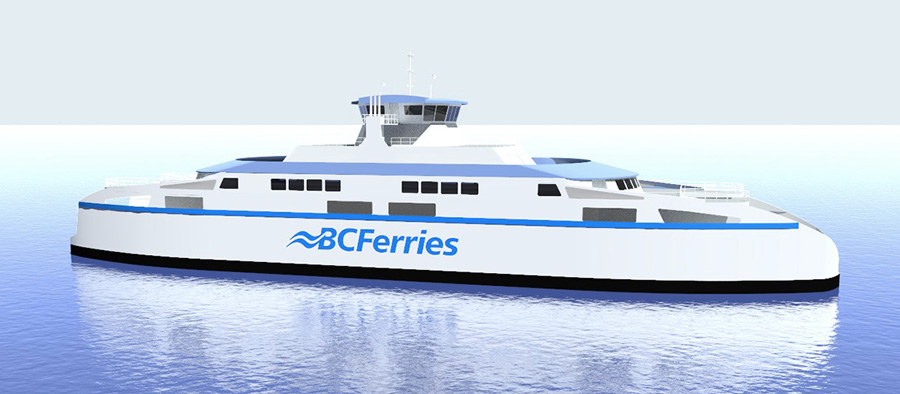 BC Ferries has awarded Remontowa Shipbuilding S.A. of Gdansk, Poland contracts totalling $165 million to build three new 'Intermediate Class' ferries. Lloyd's Register (LR) will class the ferries.
Mark Wilson, BC Ferries' Vice President of Engineering, said: "BC Ferries is very pleased to have LR as the classification society on these new 'Intermediate Class' ferries. LR has had a strong relationship with BC Ferries over the years and has the necessary experience and presence in Canada as we make this important transition to LNG fuelled ferries."
Bud Streeter, President, LR Canada, said: "This project is the culmination of a great deal of hard work. The outlook is good for LNG in Canada – there is availability of Canadian gas at highly competitive prices, so commercially this is looking like a smart decision for BC Ferries. Our job was, and will be, to help ensure safety and reliability in the design, build and the bunkering and operation of these ships. Passengers are the most valuable cargo so we will endeavour to contribute to the safe operation of these ships. LNG can provide significant environmental benefits and, as BC Ferries is well aware, safety comes first. We are pleased to provide BC Ferries with our assistance and expertise.''
The new intermediate class vessels will be the first vessels in BC Ferries' fleet to operate as dual-fuel capable, using Liquefied Natural Gas (LNG) or diesel fuel for propulsion and power. "This is an exciting initiative for BC Ferries that can reduce upward pressure on fares due to lower fuel costs for LNG, and reduce the environmental emissions substantially as LNG is a cleaner and greener fuel compared to current alternatives," added Wilson.
'LR Class' means that the ferries will be required to be built to LR's Rules, LR's surveyors will be surveying the ship during construction to check for compliance and, once the ferries have been found to meet LR class requirements and placed in service, LR will survey the ships at regular intervals through their operational lives. In addition, LR's LNG fuel expertise has been drawn on by BC Ferries to support overall risk management of the project to help ensure the safety of bunkering and all LNG operations.
LR is now working on a wide variety of LNG projects worldwide as LNG-fuelled shipping expands. These newbuilding projects include ferries in the Netherlands, Quebec and British Columbia in Canada; also, a bulk carrier for Swedish principals; car carrier project for Norwegian operators; an ice breaker in Finland; and joint development and investment projects with major shipowners and Asian shipyards, as well as infrastructure related consultancy projects with ports in Asia and Europe.
Last month Lloyd's Register announced a joint development project with Piraeus, Greece based Capital Shipmanagement and Daewoo Shipbuilding (DSME) for an 18,000 teu LNG-fuelled container ship design, and earlier this month it was announced that LR will class Texelstroom, the new innovative large hybrid propulsion ferry that will operate in the Netherlands. Furthermore, last week it was announced that LR is supporting Portsmouth as the UK port prepares to receive Brittany Ferries' new large LNG-fuelled ferries.