Large ferry to trade between the Dutch islands of Texel and Den Helder will have an advanced energy management system – operating principally on gas but also with batteries, solar auxiliary power and the capability to run solely on diesel.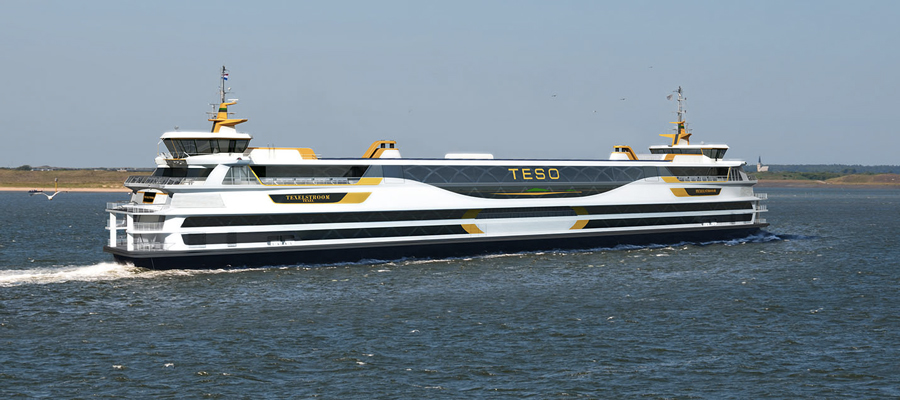 Lloyd's Register will class Texelstroom, the 1,750-passenger, 350-vehicle, double ended ferry that will operate between the Dutch islands of Texel and Den Helder. Ordered by Royal N.V. Texels Eigen Stoomboot Onderneming (TESO), the ferry will be constructed at the LaNaval Shipyard in Spain for delivery at the end of 2015 before four months of final commissioning and training, she will then enter service in the spring of 2016.
Texelstroom is unique in that she will combine the innovative use of several different energy sources to provide reliable, efficient power and vastly reduce environmental impact in comparison with existing ferry technology. The ferry will have two completely independent engine rooms, each of which can provide enough power to be able to continue the normal service of the ferry at least up until wind force Bft 9. One engine room is to be fitted with two ABC diesel engines (2 x 2000 kW), and the other with two ABC dual fuel engines (also 2 x 2000 kW). On each ship end two Rolls Royce azimuth propellers will be installed, to achieve a speed of 10 knots (economic) and 15 knots (maximum).
It is planned that the ferry will operate mainly on natural gas stored in two batteries of compressed natural gas (CNG) bottles installed on the top deck. Electric batteries will also form an integral part of the advanced energy management system. In addition to this, with over 700m² of solar panels, the ferry will have power available from the sun in the sunniest region of The Netherlands.
TESO has a long standing relation with LR which started with the plans for building the Schulpengat in 1989. After that, TESO decided to contract LR for their ISO certification. In 2003, the engineering of the ferry Dokter Wagemaker started and because of the previous good experience and relationship, this contract was also awarded to LR. Now, during design, plan approval and building of the innovative Texelstroom TESO looked for a partner to support their plans. Mr. Cees de Waal, managing director of TESO, is confident that with LR's background knowledge of the TESO philosophy, that safety and reliability are the most important goals to achieve, in addition to the long standing good relationship between both sides, TESO has again chosen LR to be their classification society.
The design of the ferry was supported by the European Union's 'I.Transfer' Program, which aims to make ferry transport more freely accessible and sustainable, and encourage more people to travel by water. As well as the innovative power arrangements, the design incorporates features important to ferries operating in the area. The vessel is to be ice class, with a strengthened hull in case of winter ice. Additionally, LR's notation for Passenger and Crew Accommodation Comfort (PCAC) will help ensure a safe and comfortable journey for all.
John Hicks, VP for Global Passenger Ships, Lloyd's Register said: "Winning the contract for this highly innovative ferry demonstrates LR's ability to help shipowners manage the introduction of new technology with confidence. Our teams in Spain and the Netherlands helped the client in delivering solutions to the engineering and regulatory challenges involved in this exciting contract. This is a robust design with the ability to operate in safety and efficiency in all conditions."
Operational details
It is planned that the ferry will sail on gas as much as possible. And with abundant installed power under normal conditions, with only the dual fuel engines, the ferry will meet maximum service speed requirements if necessary.

The dual fuel engines will start in the diesel mode, but change over to dual fuel after a couple of minutes.

The ferry will operate from 6.00 till 22.00 constantly on an hourly service from both sides between Den Helder and Texel. The actual sailing time is about 20 minutes per voyage.