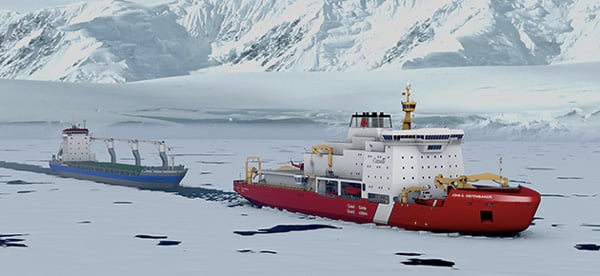 Picture credit: Vard Marine Inc
One of the world's largest and most powerful icebreakers, John G. Diefenbaker, is being built for the Canadian Coast Guard (CCG) in Vancouver as part of the Canadian government's National Shipbuilding Procurement Strategy (NSPS).
The 150m long vessel will be constructed by Seaspan Vancouver Shipyards. Her design, which is a collaboration between the CCG, VARD Marine, Aker Arctic Technology and Imtech, is based on the requirements of Lloyd's Register's polar class two – the second highest ice class according to the IACS polar class rules. The vessel is also one of the first to hold the class notation 'Icebreaker(+)', where ice strengthening requirements are additionally validated with an analysis of the vessel's operational profile and potential ice-loading scenarios.
The John G. Diefenbaker, which was named after the former Canadian prime minister whose government founded the CCG in 1962, is designed for unrestricted autonomous operation in the Canadian Arctic and adjacent waters for nine months of the year with the capability of safely over-wintering in high Arctic waters.
The vessel will be able to break 2.5m of snow-covered ice and will have an icebreaking endurance greater than 25 days. She has an open water range of 26,200 nautical miles and a logistical endurance of 270 days. She will be able to achieve a maximum speed of about 20 knots in open water, but her normal cruising speed is around 12 knots.
Read about LR's icebreaker prowess and achievements in the polar regions in the upcoming issue of our Horizons magazine, out 19 May.