Lloyd's Register is working with British port to develop operational procedures and technical standards required for safe LNG bunkering operations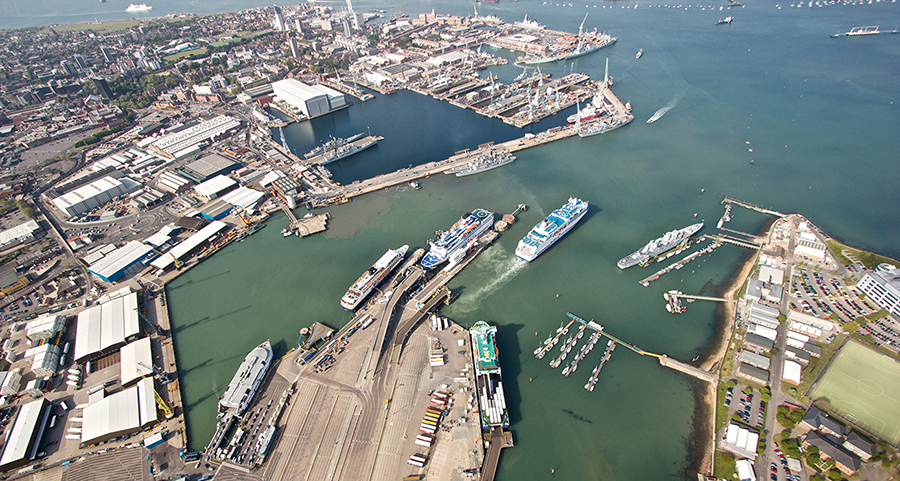 LR has commenced a project to identify the technical specifications and develop operating procedures for safe LNG bunkering in Portsmouth International Port. The project will position Portsmouth to develop its ambitions to become an LNG bunkering facility and hub – the first in the United Kingdom.
Leonidas Karistios, Global Gas Technology Manager, Lloyd's Register said: "Obviously with growing demand for LNG, ports are looking to understand how they can develop the capability to deliver LNG bunkering services safely. It has to be safety first and Portsmouth is looking to ensure that they have the right, safe, approach to support operational and commercial ambitions. With a city adjacent to the port, significant ferry traffic and a large naval presence, there are substantial and varied stakeholder aspects to be addressed."
Brittany Ferries latest newbuild, scheduled for delivery in 2016, will be gas fuelled (see LR's March 2014 Gas Technology Report at www.lr.org/gas) and will call at Portsmouth where LNG bunkering will take place.
Kalvin Baugh, Deputy Ferry Port Manager, said: "With changes in the regulations governing emissions, it is clear that in the future more shipping will be fuelled by LNG. To help safeguard the port and meet the needs of our customers, Portsmouth International Port needs to be able to offer this facility. Safety is of course the main priority, and we are delighted that Lloyd's Register has agreed to help us identify the technical specifications and operating procedures that will help to deliver this."
Lloyd's Register will provide detailed guidance to Portsmouth including requirements for technical specifications of bunkering equipment; helping to ensure that the right operational procedures are established; helping to ensure that port safety and emergency planning is provided for; and that personnel competence can be developed effectively and put in place.
Thanos Koliopulos, Global Special Projects Manager, commented: "We can use experience gained in projects like Singapore Port and Viking Grace to apply real project experience to deliver advice for the planning and execution of LNG bunkering to both the port and its bunkering service providers. Particular attention is given to the effective planning and execution of the port's main clients' compatibility of operations and all technical aspects for bunker tanker and receiving ship's facilities. We can help Portsmouth to get ready for real LNG bunkering operations, not only for ferry and short-sea shipping, but our global expertise and perspective can also help them to prepare for supporting LNG fuelled deep sea shipping requirements."
Lloyd's Register's gas expertise stems from decades of LNG carrier classification leadership and understanding ship-to-ship (STS) transfer of LNG. STS has been a principal area of development for large scale transfer of gas and is an important experience. Risk leadership undertaken for bunkering operations at the Port of Stockholm to support the high-volume bunkering required for the Viking Grace passenger ship project, now successfully in operation carrying 2,800 passengers between Stockholm and Turku, has further added to Lloyd's Register's experience and track record. And recent LNG-as-fuel class contract wins include a wide variety of innovative projects in Norway, Sweden, Finland, Canada and the Netherlands for sophisticated gas-fuelled ships as demand for LNG-as-fuel moves beyond small domestic ferry applications.