Maersk Tankers uses the methodology Bunker Adjustment to distribute payments to pool partners based on the bunker consumption of their vessels compared to the pool average. The methodology has now been reviewed by Lloyd's Register, confirming its conformity to recognised industry quality standards.
The Bunker Consumption methodology calculates how much fuel each pool vessel consumes in relation to the pool average and allows Maersk Tankers as a pool manager to distribute payments to pool partners accordingly, giving pool partners a fair and transparent distribution of money.
Independent subject matter experts from Lloyd's Register have conducted an audit of the Bunker Adjustment calculation engine and have assessed its conformity with established methodologies and published international standards, such as ISO 15016:2015 and ISO 19030:2016. "We use the Bunker Adjustment methodology, as we believe it is the fairest and most accurate way of distributing payments related to bunker consumption to our partners. The third-party verification by Lloyd's Register speaks to that," says Ulrich Schittek, Head of Management Services, After Sales, at Maersk Tankers.
Pool partners gain financially and in knowledge
Bunker Adjustment rewards good operational performance and offers a healthy return on investment to pool partners that invest in the fuel efficiency of their vessels, which they can do for instance through applying anti-fouling hull paint or training their crews to operate the vessel in a fuel-efficient way.
The rewards are tangible, not only for pool partners with the most fuel-efficient vessels. Inherently, Bunker Adjustment encourages bunker performance and through that, benefits the pool as a whole. The data that goes into the methodology is further utilised to evaluate each vessel's saving potential. "We support pool partners on initiating the right actions to improve fuel performance and consequently, the pool partners' earnings," explains Per Navndrup Pedersen, Head of Bunker at Maersk Tankers. Through this, efficiencies are achieved across all pools.
High transparency
Bunker Adjustment uses data which is normalised to remove the impact of speed, draft, cargo handling and weather from a vessel's performance. Through this, the actual performance of all vessels is assessed under the same conditions.
The methodology was launched in August 2015 and is built on robust metrics and algorithms and known naval architectural methodologies. The backbone of Bunker Adjustment is calculated by the external performance provider Vessel Performance Solutions (VPS). "The fact that we combine naval architectural practices with the pool distribution allows us to compare the vessels' performance by equal standards and is unique in the industry," says Pedersen.
Through Maersk Tankers' pool partner platform InSite digital, pool partners can examine adjustments for the vessels in their pool. The platform allows pool partners to compare the actual consumption of their vessel with the optimal consumption which includes vessel specifics and, for example, the time until the next upcoming drydocking. "Insite digital assists partners in maximising their vessels' potential and increasing their earnings," says Schittek.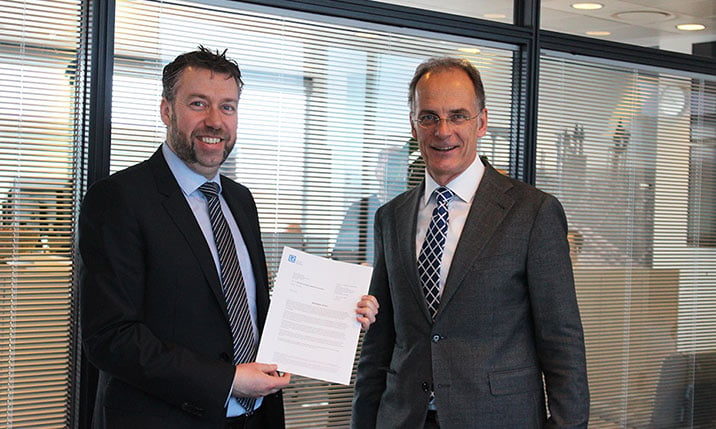 Morten A. Jensen, Sales & Marketing Manager at Lloyd's Register (left) handing over the statement of fact to Ulrich Schittek, Head of Management Services, After Sales, at Maersk Tankers (right)