Subsea 7's newest heavy construction flexlay vessel, Seven Arctic, has been designed and built to Lloyd's Register (LR) class. Designed to meet the demands of deepwater and harsh environments, she can work at depths of 3,000m and features three offshore cranes, the largest of which is capable of a 1000-tonne lift.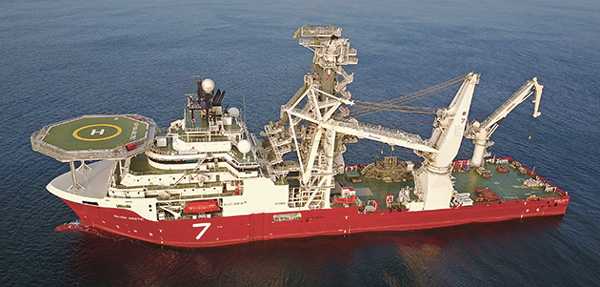 Built by Hyundai Heavy Industries, Seven Arctic measures 162.3 meters in overall length with a breadth of 32m. The vessel also features a 600-tonne top tension tiltable lay system for pipe laying and is fitted with six diesel generators producing just over 25,000 kw to supply eight electric propulsion thrusters.

All thrusters can be automatically controlled by the cutting edge dynamic positioning system and the vessel is suitable for operations defined in LR's DP AAA/3 notation. This means that all propulsion and control equipment will not fail in the event of fire or flood in any one compartment; the equipment is physically separated throughout the vessel in line with these requirements.

All safety features of the vessel have been installed in accordance with the Special Purpose Ship Code 2008 and include an automated water-mist fire-fighting system, working alongside an advanced fire detection and safety control system.

The vessel is equipped with winterisation features to enabler operation in cold climates and the hull has been built to comply with LR's Ice Class Notation 1D. Seven Arctic is expected to commence operations in the Spring.