Chakib Abi Saab, Lloyd's Register's Chief Technology and Innovation Officer, joins board of Safetytech Accelerator Limited.
Safetytech Accelerator has appointed LR's Chief Technology and Innovation Officer (CTIO) Chakib Abi Saab (pictured right) as Chairman of the Board, replacing outgoing Chairman Nial McCollam who is stepping down from his role after two successful years.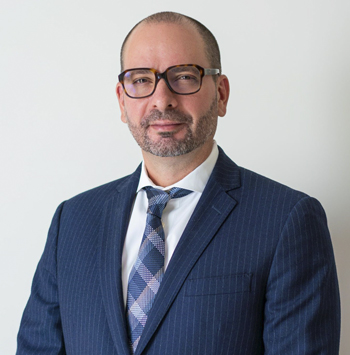 Abi-Saab joined LR in July 2022 with a wealth of experience in technology and digital enablement from both maritime and the oil and gas industry. He was previously with Bahri (formerly known as the National Shipping Company of Saudi Arabia) as their Chief Technology Officer. Before his time with Bahri, Abi-Saab held executive roles at ship management company OSM, offshore energy provider Bumi Armada and Oil and Gas Services provider Baker Hughes.
Safetytech Accelerator Limited was incorporated at the end of 2020 and started operating in January 2021 as a non-profit technology accelerator focused exclusively on safety and risk in industrial environment. Its mission is to help drive wider awareness and adoption of leading-edge digital technologies to solve the world's most complex safety and risk challenges.
The inaugural Board of Directors included Dr. Maurizio Pilu as Managing Director and Annemie Ress, who joined as independent Non-Executive Director.
Outgoing Chairman of the Board, Nial McCollam said: "It has been an absolute privilege over the last few years supporting the effort to establish Safetytech Accelerator as a world-leading initiative. In particular, it has successfully demonstrated how the vast array of proven commercial technology and innovation capability available to businesses today, can be adapted and deployed to solve what previously were regarded as intractable or insolvable safety and risk issues. I am confident that the Safetytech Accelerator, its partners and customers and their new chairman will build on these successes and move forward from strength to strength."
Incoming Chairman Chakib Abi Saab said: "It is a great honour for me to join the Board at Safetytech Accelerator as Chairman. These are exciting growth times as Safetytech Accelerator is already operating globally, engaged with over 600 early-stage technology businesses, and has launched over 30 cutting-edge innovation pilots."
"My aim is to support and accelerate its mission of making the world safer and more sustainable through wider adoption of industrial Safetytech."
Dr. Maurizio Pilu commented: "I would like to thank Nial McCollam for the pivotal contribution in the establishment of Safetytech Accelerator. I fondly recall the many deep brainstorming sessions that led to the vision and strategy that ultimately got us to where we are now. I would also like to thank him for the support, steer and encouragement in the past two years as Chair of the Board".
On the appointment of Abi Saab, he added: "I'm delighted that Chakib has joined. He will bring new perspective from his long experience in various technology leadership positions in safety critical industries, as well as investment experience. He's joining in an important growth phase for us and I look forward to working with him".