LR has presented Samsung Heavy Industries Co., Ltd. (SHI) with approval in principle (AiP) for its smart ship solution: INTELLIMAN SHIP. The solution is the first to receive LR's 'Digital AL2 SAFE PERFORM SECURE' notation, confirming compliance with LR's new Digital Ships requirements.
The marine industry is beginning to realise the benefits of operating and optimising ships that have remote access to onboard operational data for the purposes of monitoring, analysis, decision-making and control – once they have been assessed to minimise incidents of cyber-attack and security breach. This new level of connectedness presents the industry with both opportunities for improving operation, optimisation and safety.
The hardware and software that control processes, systems and equipment can be vulnerable to attack and affect safe/effective operation, therefore numerous risks for safe operation and security need to be identified, understood and mitigated to make sure that smart ship technologies are safely integrated into ship design.
SHI has been focusing its efforts on developing a smart ship solution to promote safe operation and optimisation with a cyber security governance system to mitigate the risk of introducing vulnerabilities to cyber-attack, or other unauthorised access, as part of its plans to meet the market's needs for cyber security in shipping.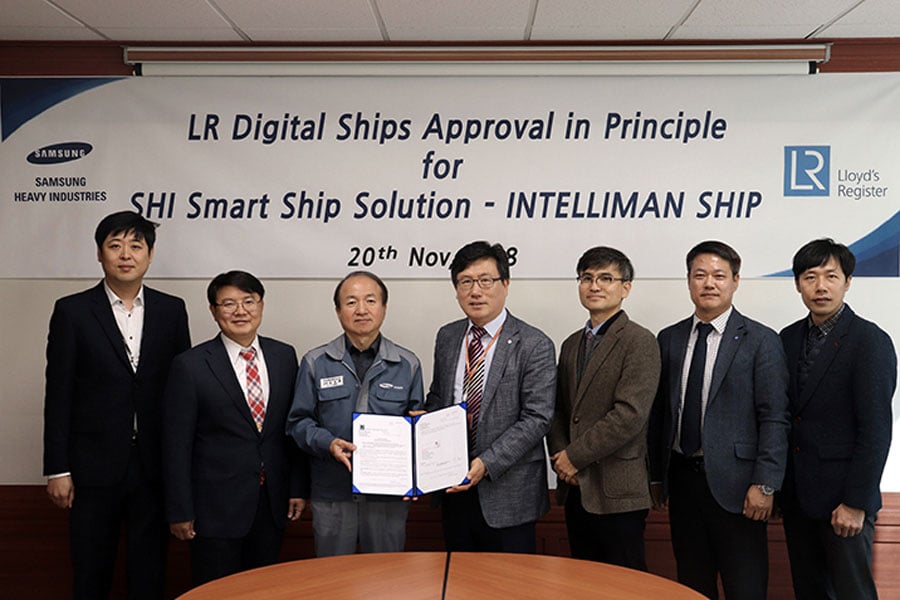 SHI Director of Ship and Offshore Research Institute, Vice President, Dr. Yong-Lae Shim, commented: "We expect to see a number of assets in the marine and offshore industry using our INTELLIMAN smart ship solution in the near future. The system has consolidated functionality, integrated safety and cyber security capabilities which enable ship owners/operators to improve their operational efficiency. We are delighted to receive this AiP from LR – a leader in the marine and offshore digital transformation. In connection with this initiative, we will continue to develop the next generation of smart ship solutions together with our other offerings: BIG, S.VESSEL and S.FLEET, for our clients to see real commercial benefit. These systems will provide integrated management of all asset-related data between onboard and onshore safely and seamlessly."
LR's North Asia Technical Support Offices Manger, Mr. Young-Doo Kim, said: "We are pleased to present this AiP to SHI, confirming that their advanced smart ship solution is in compliance with our Digital Ships requirements. As more and more ships become digitally-enabled in order to enhance operational performance, we are glad to be working with SHI to drive innovation in this area to ensure that digital ship systems are well designed, safely integrated and have cyber resilience capabilities."
LR's new Digital Ships ShipRight Procedure, which explains the assignment of digital descriptive notes for autonomous and remote access ships, can be downloaded here.