CSSC GWS smart ship project achieves LR cyber-enabled ship (CES) descriptive notes.
A special ceremony was held this week as part of Marintec China 2017, in which the first China smart ship was presented with LR cyber-enabled ship descriptive notes.
The vessel, Great Intelligence, was designed by Shanghai Merchant Ship Design and Research Institute (SDARI) and built at Guangzhou Wenchong Shipyard Co., Ltd (GWS), a subsidiary of China State Shipbuilding Corporation (CSSC). Along with LR, System Engineering research Institute (SERI) and China Class Society (CCS) were also involved in this project.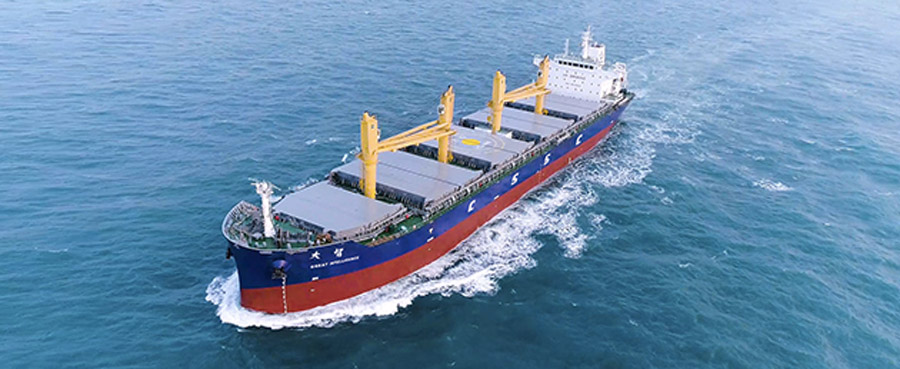 Great Intelligence, a 38,800 dwt modified version of the Green Dolphin fuel-efficient Bulk Carrier concept, is the pilot smart ship project within China. LR's latest CES descriptive notes will be assigned to the project and the latest requirements are applied to this ship. The vessel achieved LR's CES descriptive notes – Cyber AL2 Safe (Navigation, Propulsion, Steering), Cyber AL2 Maintain (M/E, A/E, Boiler, Shaft) and Cyber AL2 Perform (Energy Management).
Nick Brown, LR Marine & Offshore Director said: "LR is extremely pleased to be presenting this first smart ship in China with our latest cyber-enabled ship descriptive notes. It is a true landmark for all parties involved and another step forward in our digital journey as an industry as well as a milestone for smart shipping in China. We are very proud to be helping our clients build more autonomous ships that are safer, more efficient and energy saving."
Wang Yi, Vice General Manager, CSSC Huangpu Wenchong Shipbuilding Company, commented: "Huangpu Wenchong shipyard will continue to work on the deep development of smart ship and contribute more to the shipping industry, we wish a bright future for the Great Intelligence and believe she will create miracles for the operating company and shipowner."
Li Xin, Innovation Centre Smart Ship Project Team Vice Director of SDARI, said: "SDARI has been making effort to design ships that are safe, economic and efficient. Great Intelligence is one of those. We redesigned the ship as a digital ship, we didn't just apply the smart systems. After the delivery, it will be an example what a smart ship is and make the shipping safer, more economic and more efficient."
Qiu Bohua, Director, CSSC Systems Engineering Research Institute, Oceanic Intelligent Technology Innovation Centre, commented: "The Ship Operation and Maintenance System (SOMS) utilises advanced sensing technology to build the ship's network. Moreover, SOMS builds the brain based on intelligent technologies such as machine learning. Finally, SOMS realises the intelligent application such as energy efficiency management system and health management system."
LR is a leading player in the safe adoption of digital technologies within the marine and offshore sector, and has pioneered a 'total-systems' approach. In February 2016, LR issued the first guidance on cyber-enabled ships: 'Deploying Information and Communications Technology in Shipping – Lloyd's Register's Approach to Assurance'. This identified the elements that constitute a cyber-enabled ship and the activities that need to take place to ensure that cyber technology does not introduce a safety risk, effectively providing the industry with a route map to understanding the implications of digital technology. This was followed with the introduction of the industry's first ShipRight procedure, which details LR's framework for accepting cyber technology.
Factory acceptance and sea trial tests for the Great Intelligence's smart system took place last month and LR is satisfied that the smart system meets requirements. The following functions are included within the smart system onboard the Great Intelligence:
Ship Operation and Maintenance System (SOMS) Health Management – The SOMS Health Management System monitors the ship's main equipment operational parameters. This information can then be used to support decisions on the actions to be taken.

Ship Operation and Maintenance System (SOMS) Energy Efficiency Management – The SOMS Energy Efficiency Management System provides energy efficiency monitoring, analytics and optimisation (for example energy consumption during the voyage, voyage parameters and ship condition for energy optimisation), energy efficiency historical data analysis, energy efficiency management (for example fuel and emissions control) and decision-making support.

Ship Operation and Maintenance System (SOMS) Intelligent Integration Platform – The Intelligent Integration Platform (IIP) is the core of the smart ship intelligence, integrating the data from the Energy efficiency management system and the Health management system. This platform provides the functions of data management, analysis and forecasting. The IIP integrates data from the different systems to provide end-user support.

Intelligent Navigation System – The Intelligent Navigation System is intended to augment existing vessel's systems and not to replace or impact existing vessel safety systems. Data from ship and shore-based service stations is collected and analysed against baseline ship's route information in order to identify opportunities for route optimisation, for example the alteration of the ship's route to avoid adverse meteorological conditions, such as crossing typhoon; or the modification of the route to avoid identified obstacles. The Intelligent Navigation System also provides smart functions such as ship route optimisation to reach the destination in shortest time, with minimal fuel consumption, with the most comfortable or most economic voyage. It should be noted that actions taken in response to any information provided by the Intelligent Navigation System shall be by human.
LR's revised cyber-enabled ship (CES) ShipRight procedure was also launched at Marintec. It has been updated using lessons learnt from LR's recent projects working with key clients such as Rolls-Royce, CSSC and Synergy Marine, as well as through lessons learnt by working with academic and industry partners at QinetiQ, the University of Southampton and the National Oceanography Centre, to name a few. The important update includes three new descriptive notes, designed to give recognition to the early adopters and innovators in connected assets on ships.