Hyundai Heavy Industry (HHI) Group, with the support of LR, is responding to the increasing interest in the development of the global supply of liquefied natural gas (LNG), following the introduction of the IMO's NOx and SOx emission limitations, by being at the forefront of developing innovative ship designs.
This month Hyundai Mipo Dockyard (HMD), part of the HHI Group, will deliver of the world's largest LNG-fuelled ship, a 50,000 dwt bulk carrier with a high manganese LNG fuel tank. HHI also recently signed a contract to build the world's first LNG-fuelled aframax tanker.
Earlier this year, HHI and LR announced a joint development project to design 180,000 dwt class bulk carriers; the design development is now almost finished and is in the process of receiving approval in principle. This design is optimised for short to medium-haul bulk trade (i.e. Australia – Asia) and long-haul bulk trade (i.e. Brazil – Asia) service, in line with Harmonised Common Structural Rules.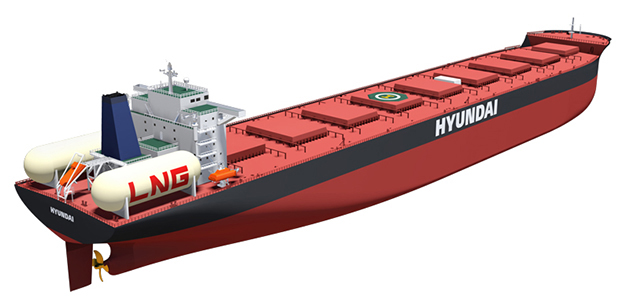 To decide the optimum location and type of LNG tanks for these designs, the shipyard conducted several case studies for competitive CAPEX and OPEX. As a result, LNG fuel tanks with POSCO high manganese steel or 9% nickel steel were chosen. They will be located on the aft mooring deck because of the amount of LNG that will be required for the Australia – Asia route. For the long-haul route, a larger sized LNG storage tank can be fitted in the mid-part of the vessel.
Additionally, Woodside, Anangel, GE, LR and HHI signed a joint industry project agreement to develop an LNG-fuelled 250,000 dwt very large ore carrier operating on the Australia – Asia iron ore trade route. The HAZID analysis of this design, to verify the safety level, was recently completed with all parties in Seoul. The LNG tanks are also based on the POSCO high manganese steel or 9% nickel steel design.
LR's Jin-Tae Lee, Korea Chief Representative & Marine Manager, said: "We are pleased to help the shipyard bring these types of innovative designs to the market through the joint development project with HHI. We believe that HHI's efforts can offer the possibility that will help owners comply with emission regulations with a reliable and competitive solution."
Hyung Kwan Kim, HHI's Senior Executive Vice President, commented: "We believe that our work in creating environmentally-friendly designs is more of a mission than a choice, which will lead to a cleaner shipping industry and a greener world. We hope that the first beneficiary of this effort will be the shipping industry. It has always been a great pleasure to work with LR."