Woodside Energy Ltd., Anangel Maritime Services Inc., Hyundai Heavy Industries Co., Ltd., General Electric Company and Lloyd's Register set out their intention to commence work on a joint project with an announcement at Gastech 2017.
The joint design programme is aimed at exploring the suitability of technologies for large ships, such as VLOC. Since the introduction of IMO nitrogen oxide and sulphur oxide emission limitations, and the increased developments in the global supply of gas, there is a continued need for ship designs to evolve to provide further alternatives to traditional oil-fuelled designs.
In this regard, the novel ship propulsion design burning natural gas is considered as the most favourable option and the adoption of novel gas storage, supply and propulsion technologies are not only environmentally-friendly but also provide a wealth of possibilities for cost-efficient design and operation.
The next generation of cost efficient and environmentally-friendly large ships are best defined by the design development of an alternative propulsion system, improved asset safety and reliability. The agreement outlines the joint design project for a conventional dual-fuel powered VLOC incorporating proved technologies. The next stage of the joint design programme will then investigate the design and benefits of highly efficient next-generation LNG fuelled propulsion systems.
A programme of work has been agreed by the joint parties to address design, construction and operational aspects including LNG bunkering, with the aim to create a new generation of cost efficient, safe, reliable and above all, environmentally-optimised design for large ore carriers.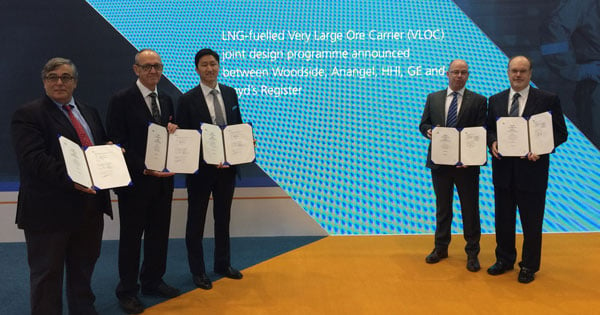 A photograph of the ceremony to announce the JDP, from left to right: Stavros Hatzigrigoris, MD, Maran Gas Maritime Warwick Pointon, VP Shipping, Woodside Energy Kisun Chung, Executive VP, Corporate Planning Office, HHI Jim Smith, North Asia Area Manager, Marine & Offshore, Lloyd's Register David Nelson, Director, Sales & Business Development, Marine, GE Aviation