Norway and Japan-based United European Car Carriers (UECC) has taken delivery of the first dual-fuel LNG pure car truck carrier (PCTC), built by Nantong COSCO KHI Ship Engineering Co., Ltd (NACKS). The delivery marks a huge milestone in the development of the application of LNG as an alternative fuel for large commercial vessels.

The 4,000 RT unit PCTC, constructed to LR class, is the first of two sister ships being built at NACKS to comply with the requirements of the North European emission control areas (ECA), for year-round operations in the Baltic Sea. The second ship is due to be delivered by the end of this year.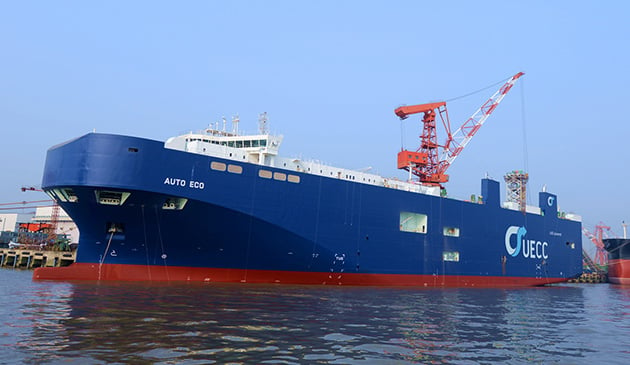 The ship is built to LR 1A FS Ice Class (equivalent to 1A Super Finnish/Swedish Ice Class) and the cold countermeasures have been applied. Main propulsion for the ship is provided by a single dual-fuel slow speed 2-stroke engine type 8S50ME-C8.2-GI manufactured by Kawasaki Heavy Industries, developing 11,000kW. The engine is capable of operating on high-pressure LNG vapour or fuel oil, and is directly coupled to a controllable pitch propeller. When the engine is running on LNG, SOx emissions and particulate matter (PM) are dramatically decreased to almost zero, compared to conventional fuel oil only; CO2 and NOx is also considerably reduced.

Additionally, the vessel has three auxiliary 4-stroke dual-fuel engines, type W9L20DF (two sets of W9L20DF and one set of W6L20DF), manufactured by Wartsila, operating on low pressure LNG vapour and each developing more than1000Kw (two sets of 1500Kw and one set of 1040Kw). A dual-fuel auxiliary boiler is also installed and operates on low pressure LNG vapour. LNG fuel is stored in a single insulated IMO Type C storage tank of approx. 800 m3 capacity, manufactured in China from 9% Ni steel.

Glenn Edvardsen, CEO of UECC, said: "We are delighted to take delivery of the world's first LNG-fuelled car carrier – one of the most technically advanced PCTC vessels ever built. UECC is dedicated to improving our expanding fleet, focusing on the development of new ship designs that meet the most challenging environmental standards. NACKS and Lloyd's Register have been instrumental in helping us realise our vision."

As a market leader in gas ship classification, LR is focused on the continued support of innovation in gas technology. In 2015, LR and NACKS worked together to develop a new 28,000 dwt dual-fuelled multi-purpose vessel (MPV) design, which achieved LR Approval in Principle (AiP). The good co-operation between the two parties set up a solid foundation for this PCTC classification.

Mr. Han Chengmin, President of NACKS stated: "NACKS is always committed to constructing high-quality, environmental-friendly ships with dual-fuel propulsion systems. The 10-deck PCTCs will operate using LNG, heavy fuel oil or marine gas oil, to maximise flexibility and efficiency, and the LNG capacity has been calculated to give the vessel a two-week round trip inside the ECA. We started our co-operation with LR last year with the 28,000 dwt LNG-fuelled multi-purpose design project; this successful UECC project has further strengthened our relationship."

David Barrow, LR's Director of Innovation, Marketing & Sales, commented: "It is a great honour to have been chosen to class the ships in this project – a continuation of our strong relationship with NACKS and UECC, and a milestone for all parties involved. We will keep sharing our understanding of marine risk and realities of LNG as a marine fuel, providing the highest level of expertise and experience to help the industry make the best commercial decisions based on the best technical insight."

With the industry required to showcase an appropriate response to the need for ever-cleaner designs, this delivery demonstrates that shipping can provide clean fuel designs to meet the requirements of world trade.