Based: Singapore
Role: Account Manager/Client Relationship Manager
Tenure at LR: 7 years, 7 months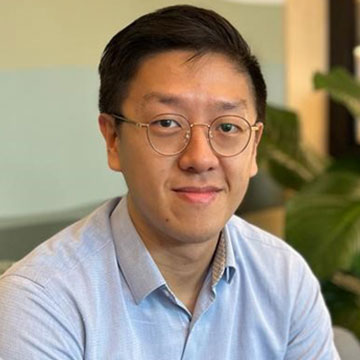 After studying Naval Architecture and Marine Engineering at Strathclyde University in Glasgow, Edmond returned home to Singapore, and in 2015, joined LR as an Internship Trainee in the Surveying Department. Initially he wasn't sure a classification society could offer him the "on the ground action" he wanted in a career but quickly discovered how varied and interesting life at LR could be.
"The dynamics and presence of people from different nationalities in our Singapore office cultivates a mindset that allows us to be a more accepting and adaptive when it comes to serving our client's needs."
Edmond's career progressed to cover several roles following his internship – as a surveyor, where there was a lot to learn – about the dynamics of the role and LR itself, as well as working with colleagues of all nationalities. "I was fortunate to be able to work in many different teams, with new, daily mentors. I worked with a great mix of people, each bringing their own expertise to the job, and sharing their knowledge with me." Throughout his time as a surveyor, he had the opportunity to be stationed in a shipyard, work on anchorage jobs, as well as working on larger projects, such as the Heerema Project, and the heavy lift vessel, Sleipnir.
With all the opportunities also came challenges. Surprisingly, the fact that he has achieved so much at such a young age, and is almost always the youngest team member, can be "a bit of a stigma in the marine industry". Edmond mentions that "research is key, learn as much as you can, and be outspoken". Working as an intern and with so many different people, helped him to adapt to this way of thinking, and shine as a surveyor, and beyond.
Wanting to get a wider view of LR and the sector, Edmond made the decision in January 2022 to move from Operations to the Commercial side of the business. He says: "I wanted to see what our customers think and why, make sense of this, and understand how the two areas of Operations and Commercial, work together, to keep LR at the top of its game." He now works as an Account Manager/Client Relationship Manager, supporting and advising LR's existing clients and building new relationships, in turn, bringing in new sales and new ship building projects. To be a good Account Manager, Edmond believes that you can't have just one way of talking or doing things, you have to learn to adapt to your client's behaviours, and being successful at this, Edmond credits the culture at LR in Singapore, and the colleagues he works with.
He says: "I grew up in Singapore, so I know how multicultural the city is, and how accepting, and tolerant people are towards each other. It helps you to understand that there are different ways to do things, there is no one right answer. This is evident in our Singapore office as well, which is part of the reason why I enjoy working here in LR. The dynamics and presence of people from different nationalities cultivates a mindset that allows us to be a more accepting and adaptive when it comes to serving our client's needs."