Based: Southampton, UK
Role: Engineering Discipline Team Manager
Tenure at LR: 23 years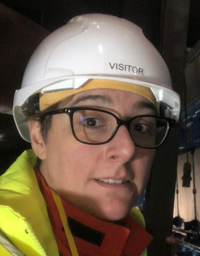 "I don't know much about ships" – it's a funny claim for someone working at a senior technical level for one of the world's foremost marine specialists, but this type of statement is typical from Jenny, whose frank and humorous approach accompanies decades of technical expertise.
Jenny studied mechanical engineering at Sussex University, and went straight into work at LR, where she has worked her way up the ranks, from starting as a contractor, she became one of the first female specialists at LR; achieving a high level of success whilst bringing up three children and a busy family life.
"I'm playing a key role in global sustainability issues."
Now at Lead Specialist level, she's been given the responsibility of writing the New Rules for hydrogen-fuelled internal combustion engines, which of course will play a critical role in reducing CO2 emissions across the oceans. This is a hugely detailed and complex task which, it's sometimes difficult to appreciate when head down in the paperwork, will make a significant impact on the sustainability of the marine sector for generations to come – not bad for someone who admits to sometimes living with 'imposter syndrome'. Imagine being able to say that "I'm playing a key role in global sustainability issues."
Jenny is passionate about sharing all the knowledge she's gained over the years – a self-confessed geek, and lover of STEM subjects, she recently got in touch with the British Gearing Association, who run campaigns alongside engineers to promote STEM subjects in schools, engage the young students and shows them things like how their times tables relate to real life! She feels it's important to get people engaged when they're young – the numbers of engineering students at university level have not changed since Jenny was a student herself, so she's very passionate about the STEM subjects being taught from a young age. She'd like to be seen as a mentor and be remembered as "that lady who came in and taught us about gears, that would be brilliant – that's the way to get them involved in engineering".
One of the highlights of her own career was when she was onboard ships in Rotterdam. She says "It was great fun and being outdoors was the best thing. And walking inside an engine – getting inside was mad, they're as big as a house! I recently went on the aircraft carrier, the Prince of Wales, which was cool. It's always lovely to go out on the ships, to remember what you're doing." Travelling the world, and having experiences like this, is one of the many reasons Jenny herself chose engineering as a career. She sees it as a huge incentive for young people to follow in her footsteps and feels it's something that needs to be shouted about more.
Whilst detailing the importance for getting people of all genders to study STEM subjects, and choose a career in engineering, Jenny also advocates for women in engineering to be more seen. Through her years at LR, she has seen great strides made, at senior level within LR, for achieving greater diversity, especially around women in senior roles, and that is finally filtering down. She's always felt supported by her immediate team and that's been instrumental in her personally building her career, and she is feeling positive about this becoming more of the structure, to support more brilliant technical women to move up the ladder!