Based: Hamburg
Role: Key Account Manager Lifting Appliances (Northern Europe) & Technical Authority Lifting Appliances
Tenure at LR: 25 years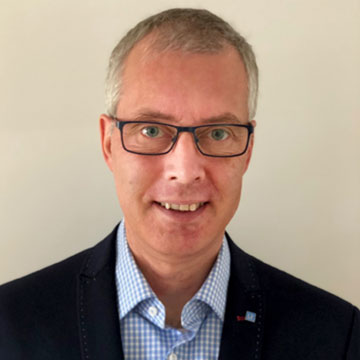 Being chosen to represent the German government on the IMO sub-committee on Ship Systems and Equipment is a career highlight for Maro. He says: "A few years ago, I had a meeting with a representative from the German Ministry and the next thing I know, I'm on the German delegation to the International Maritime Organization. It's the holy grail of shipping safety and I loved it." He makes it sound like it happened overnight, but it's his experience and expertise that got him to this point.
"I really enjoy working in an international organisation, being in contact with so many different cultures, beliefs and ways of working really pushes me."
Maro has been part of the LR family for 25 years – he had visited the LR Hamburg office for a business meeting, and several years later when he was looking for a career change in 1997, he submitted a speculative application, identifying LR as the perfect employer to develop his skills and build his future.
Joining the Pressure Vessel department as a Surveyor, he was quickly asked to look after Lifting Appliances and founded the Lifting Appliance Plan Approval department. Today, he is Key Account Manager for Lifting Appliances for Northern Europe, looking after key clients in the Netherlands, as well as being a Technical Authority for Lifting Appliances within LR. Along the way, he attended the LR Management Development Programme, and he also took it upon himself to develop further and is responsible for LR's Code for Lifting Appliances in a Marine Environment as well as the Code for Offshore Personnel Transfer Systems.
Maro believes that "with self-motivation, you can go a long way". He continues: "I don't give up and if I see that something important needs to be done, I'll just do it". It is this attitude, along with his extensive knowledge, that has made him so successful, and was approached by The Federal Ministry for Digital and Transport to represent them as an expert, in such an important delegation.
Speaking about this prestigious opportunity, and time on the committee, Maro says: "I'm very proud of this achievement, trying my best to get the most for Germany on an international stage. I really loved it – it can require delicate handling at times and one has to show perseverance or persistence to get things done, but I love the atmosphere and the internationality of it all. I also understand that great things take time, but they are worth the time and effort invested! I enjoy networking and I appreciate the learning curve, as my background is technical."
Maro recently received very positive feedback and acknowledgement from a representative of The Federal Ministry for Digitalisation & Transportation, highlighting his tenacity, hard work, and recognising his commitment and the successful national coordination he achieved. His attentiveness, expertise and negotiating skills during the representation of the committee were particularly noted and appreciated.
Based on his experience so far, Maro's advice to younger people at the very start of their careers, with LR or elsewhere, is to remember that success comes throughout the length of a career. He says: "Sometimes patience is key, your time will come so don't give up." He also reflects on the mission all LR professionals share throughout their career in the organszation: to make the world a safer place.
Maro concludes: "The job you do is meant for the better of society" – and there is no better feeling than that.