Based: Shanghai
Role: Area Commercial Manager for Greater China
Tenure at LR: Circa. 20 years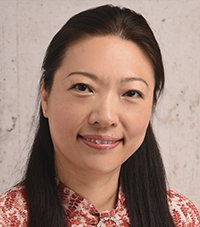 "Do not restrict yourself to a single role or location. Look forward and beyond into the future. Broaden your perspective as there are countless opportunities awaiting you within LR."
Wise words from Sherry, who has been with LR for almost 20 years, and her advice has certainly been shaped by her own experiences.
After graduating in 1997 with a Major in Naval Architecture, Sherry joined the Jiangnan Shipyard in Shanghai, where she spent five and a half years advancing along a well-defined technical route. Sherry was able to receive substantial recognition for her work and draw inspiration from the various female leaders in China's maritime industry.
Keen to progress, she was attracted to the professionalism of a classification society like Lloyd's Register and joined in 2003 as a Plan Approval Surveyor in Shanghai. In no time, Sherry was receiving on the-job training in the Busan Plan Approval Office in South Korea and followed by a short stint at our Head Office in London, UK, where she was introduced to all the corporate teams and worked particularly closely with the Rule/Software Development team on Common Structure Rules for Tankers. Sherry returned to Shanghai with a wealth of knowledge on the Common Structural Rules, thanks in part to her time in the UK, which enabled her to deliver numerous internal and external trainings on the new rules and software and lead a number of joint development projects with Chinese yards and design institutes.
Sherry reflected that by joining a truly global employer, she had the opportunity to work at several LR offices across the world, expanding her business knowledge of LR and the maritime industry, and building a network of international colleagues and clients.
This wealth of experience working with yards and designers gave Sherry the confidence to pivot into a more client-facing role, spending three years in Pre-Contract Technical Support, and from here, her biggest move yet – a relocation to Germany. This was in many ways, a daunting transition – culturally, there were many differences to grapple with, notwithstanding joining a new Business Development team. At that time, LR needed some expertise and insight into the Asian shipbuilding industry, while Sherry was keen to know more about the in-service business and sharpened her commercial skills, especially 'what happened to the ships once they'd left the shipyard', so it was a perfect match. Though this relocation, demanded big changes, Sherry felt fully supported by her colleagues at LR and her family at home.
Sherry returned to Shanghai in 2020 after spending nine years working with different teams and roles in Germany. She is currently the Commercial Manager for Greater China, where she leads a team of 25 people covering Hong Kong, Taiwan, and Mainland China. She is thriving in a leadership role, working collaboratively with her team, and coaching them to greater performance by recognising and respecting that each team member's experience and perspectives contribute equally to the team.
When asked what she has enjoyed most about her 20 years at LR, Sherry responds that working with friendly colleagues cross the world within the LR family, the ability to utilise all her prior expertise and develop a variety of new skillsets have shaped her career path the most. She states: "You always have the opportunity to advance with LR. As for myself, I am constantly eager for new adventures and challenges."
You always have the opportunity to advance with LR. As for myself, I am constantly eager for new adventures and challenges.